Lost Treasures - Discoveryland
Today, we celebrate the attractions and restaurants that were once located in Discoveryland, Disneyland Park, Paris.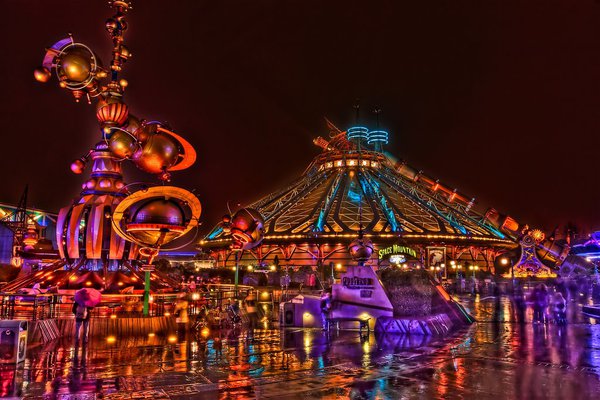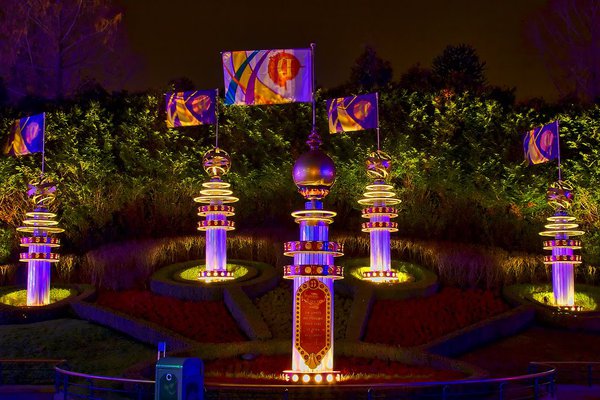 Café des Visionnaires
'Café des Visionnaires' was a quick snack counter service restaurant located between Fantasyland and Discoveryland. It payed tribute to the greatest visionaries of all time.
The restaurant featured an extraordinary futuristic mural portraying legendary stories written by Jules Verne (like 'Twenty Thousand Miles Under The Sea').
Bronze, copper, black and brown freestone gave the interior a contemporary look. It had an outdoor seating area looking out over Fantasyland and the parade route.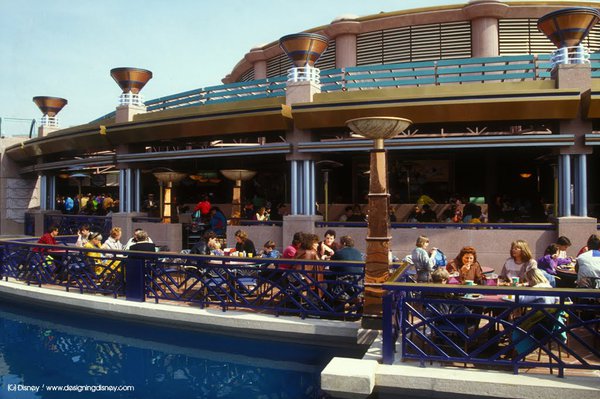 They offered salads, paella and couscous (prepared at the counter and served in cast iron pans).
In 1993, 'Café des Visionnaires' closed due to lack of demand. It was replaced in 1994 by an arcade of extra charge games. called 'Arcade des Visionnaires'.
In 2002, the building was split in two. One half accommodates the 'Annual Passport Office' (and the 'Jules Verne' mural).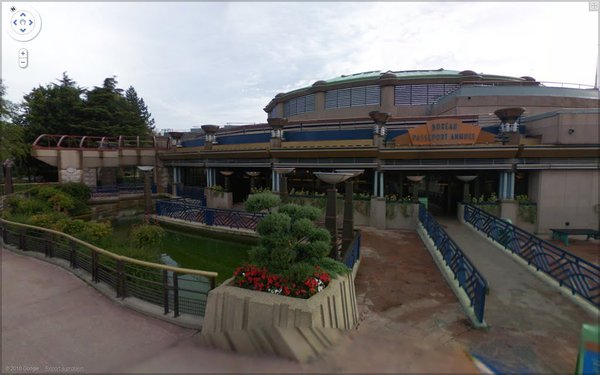 The other half became 'Arcade Omega', a smaller version of 'Arcade des Visionnaires'. 'Arcade Omega' closed late 2005 to make way for backstage areas of Buzz Lightyear Laser Blast.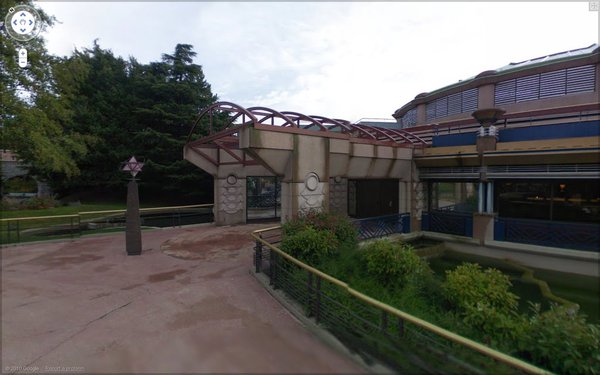 Le Visionarium
'Le Visionarium' was a 360° film presented at the Circle Vision theater in Discoveryland. It took guests for a journey, into the past and onto the future, from deep beneath the sea, to outer space, and more… All in the matter of a few minutes.
The adventure began in the pre-show room, which was filled with pictures and dozens of miniature flying vehicles suspended from the ceiling.
Here guests were introduced to Timekeeper, a wacky robot inventor who is passionate about science and history. Timekeeper invited the guests to join him in an experimentation by viewing his last and greatest invention.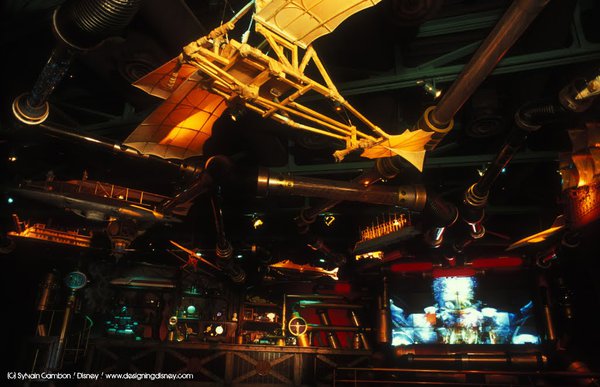 The invention was his extraordinary machine to explore time. Before he introduced his invention, he gave a short speech on how his machine would change the world, just as the ones that surrounded the guests in the pre-show theater.
After he got tied up rambling about ideas and famous inventors, he introduced the crowd to 'Nine-Eye' and explained them what she can do.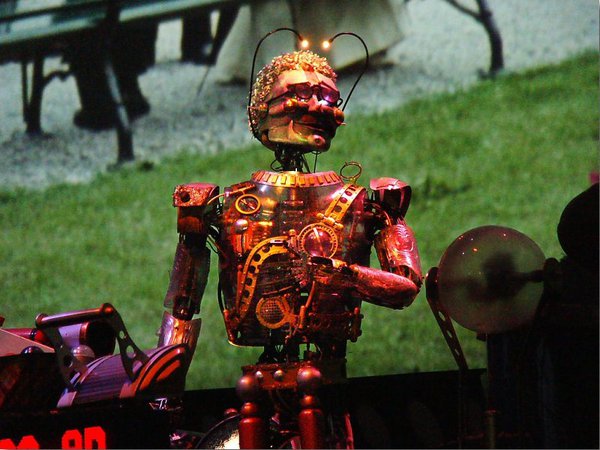 Nine-Eye is a wise cracking, hovering, female robot who is equipped with nine cameras situated around her body. Timekeeper planned to send her back through time. So that she can transmit the images as she records them of the era she finds herself in.
After the pre-show, guests were invited to enter the main theater. This circular room was fitted with nine large projection screens (one for each of Nine-Eye's camera's). Controlling the proceedings from a platform at the far side of the room was Timekeeper in person.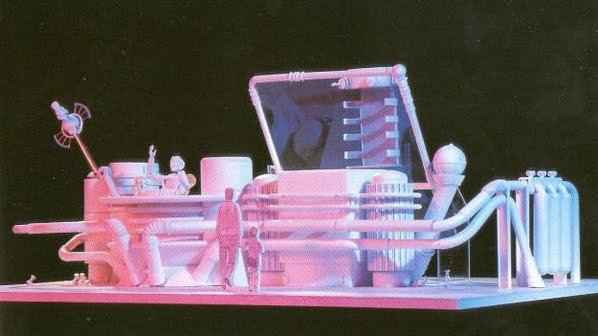 During the following fifteen minute show, Nine-Eye was transported through time, from the past to the future, but as you might imagine, not all goes as planned.
'Le Visionarium' marked the first time that the Circle-Vision film process was used to deliver a narrative story line. The film featured a cast of famous European actors such as Michel Piccoli (Jules Verne), Gerard Depardieu (an airport baggage handler), Franco Nero (Leonardo da Vinci), Jean Rochefort (Louis XV) and Jeremy Irons (H.G. Wells).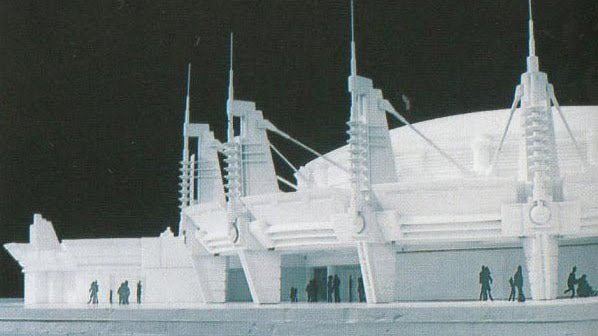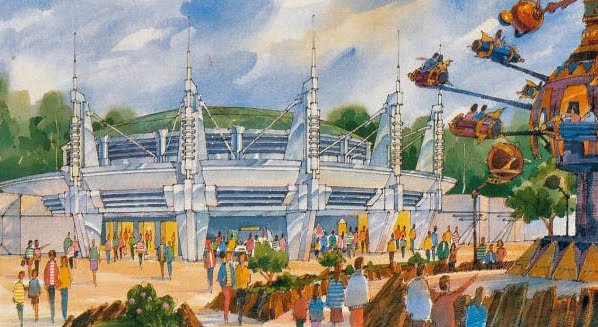 Between 1992 and 2002, the attraction was sponsored by the French automobile company, Renault. For their sponsorship, Renault's leading engineers were asked by Walt Disney Imagineering to envisage a vehicle of the far future to star in the film's closing scenes and be featured at the attraction's entrance.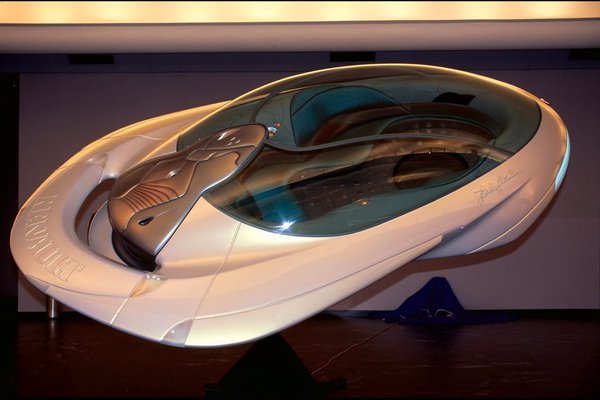 The Reinastella's futuristic design featured a vocal command system that made steering wheels and accelerators a thing of the past. With a cruising height that ranged from 15cm to 150m above surfaces, the Reinastella flew up to 300km/h.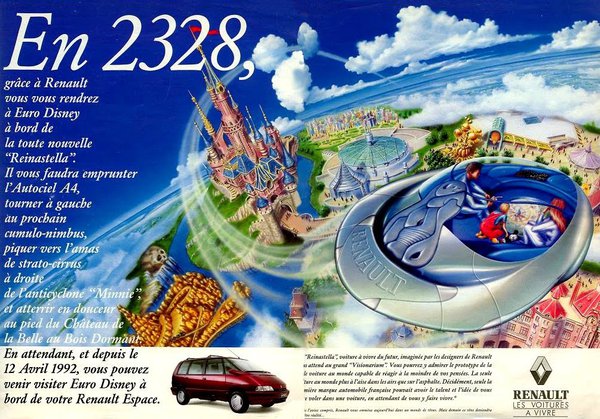 'Le Visionarium' was later copied to Walt Disney World (1994) and Tokyo Disney Resort (1993).
'Buzz Lightyear Laser Blast' replaced 'Le Visionarium', which closed September 5, 2004.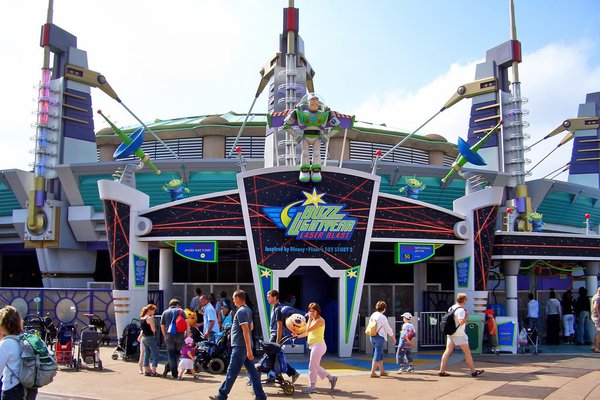 'Constellations', the adjacent store, got a Buzz Lightyear overlay too. Only one shop window, well hidden behind the rocks of the Discovery Lagoon, kept its original teeming, reminiscent of good old times.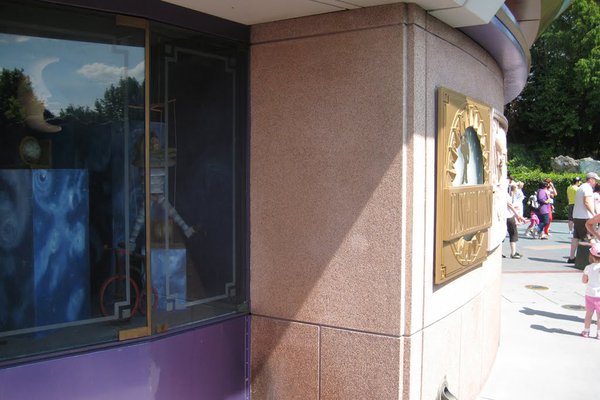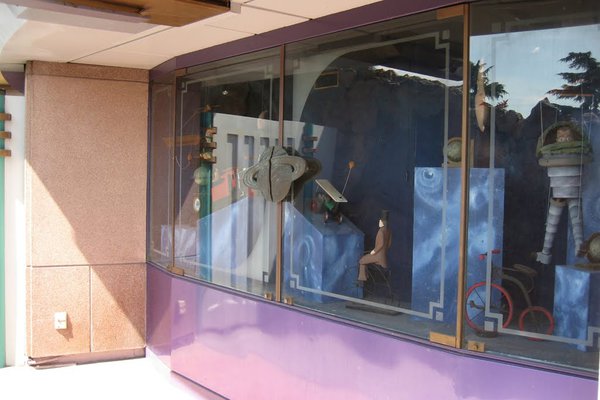 'Buzz Lightyear Laser Blast' attraction pays homage to 'Le Visionarium' in a subtle way. You might be able to spot Nine-Eye at the beginning of the ride in the 'robot attack' scene. She is hiding just behind the huge 'Box-O-Bot' robot.
Remember 'Le Visionarium', the next time you see her...
L'Astroport Services Interstellaires - Presented by IBM
'L'Astroport Services Interstellaires', once located inside the exit to the Star Tours attraction in Discoveryland at Disneyland Paris, was an interactive video games arcade, presented by IBM.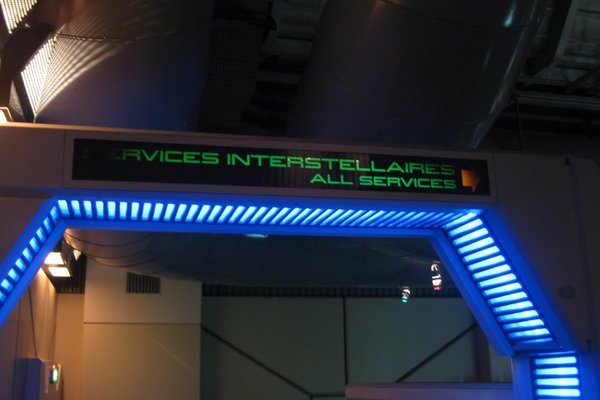 It featured several high tech computer applications and games, developed at five IBM research laboratories in the United States, France and Great Britain, by a work team consisting of forty IBM engineers and the Walt Disney's Software Development Group.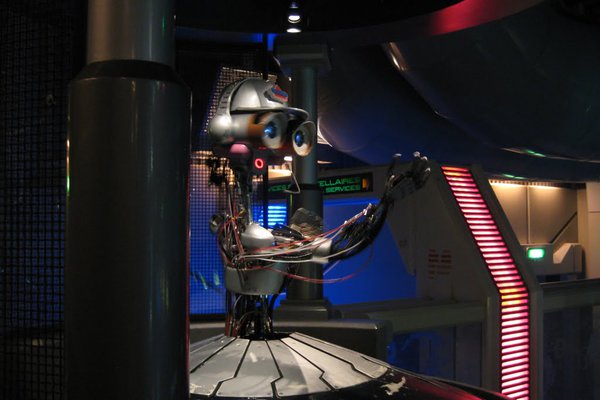 When guests entered the game hall, they were welcomed by an audioanimatronic named ROX-N (pronounced Roxanne, Rex's robot girlfriend) who introduced each game in turn in several languages.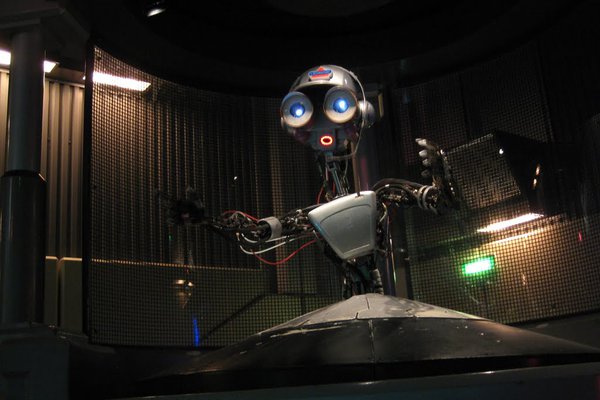 One of the games, called 'Photomorph', allowed guests to modify a digital photograph of themselves, by distorting the size and shape of the eyes, ears, nose and mouth by moving their fingers on the touch screen. Having designed a new look, guests could purchase a print out of the resulting image at the IBM Info Point near the exit.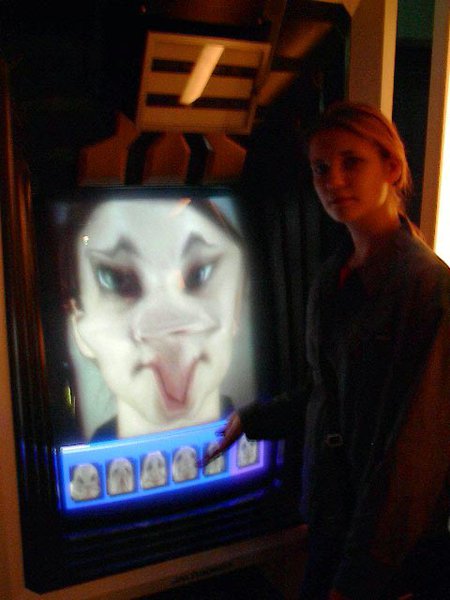 Another game was the 'Orakel' (called Ingrid) a talking computer, embodied by a face made of eight horizontal lines, that was able to analyze people's personalities by asking several questions.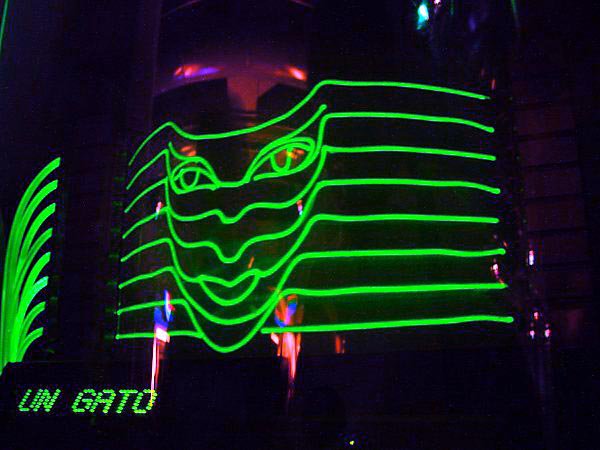 The highlight of the spaceport was the game 'Star Course'. The playing equipment were several small movable platforms (one for each player) and a huge video wall. Each player was captain of its own spaceship. The spaceships were clearly indicated by a small colored disc on the video wall.
Each 'captain' was able to steer its own spaceship by shifting its weight on the small platform he or she was standing on. The goal of the 'Star Course' game was to ram the other players' spaceships with yours as often as possible without hitting certain other obstacles.
Additional electronic games rounded out the area. All games were controlled by 37 computers, most of them IBM Personal System / 2 (IBM's third generation of personal computers). Eight machines used (in those days, state of the art) 32 bit processors.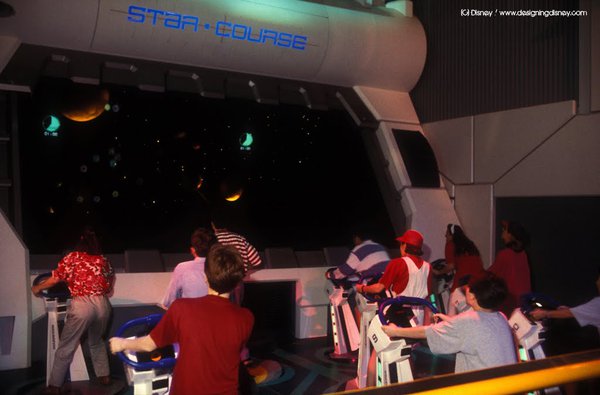 'L'Astroport Services Interstellaires' was closed down in 2005 when the 'Star Tours' partnership with IBM came to an end. Today, all interactive games were replaced with paying arcade games. Only Rox-N is (thank goodness) still in place... waiting for a new technological revolution.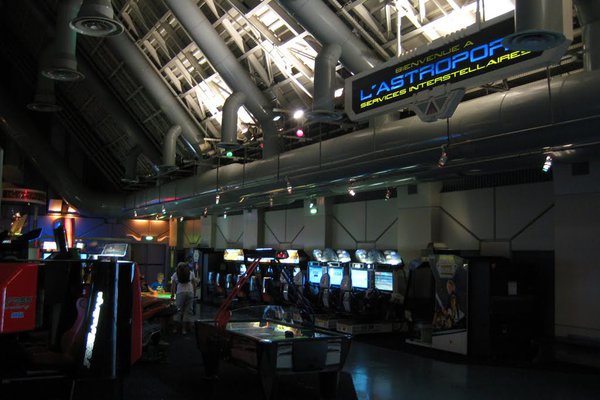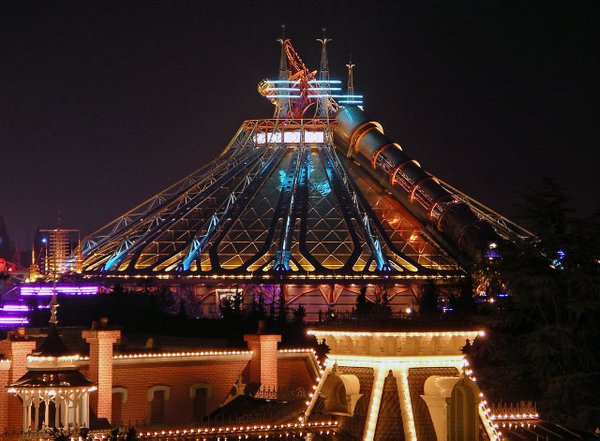 Credits
Photos:
Discoveryland at Night: Peter Pan Fan
Boxobot Robot: Disney Dan