Lost Treasures - Walt's Ground Floor Seating Area
"Walt's, An American Restaurant" is an upscale, Victorian style table service restaurant located on 1401 Flower Street, Main Street USA, Disneyland Paris. It serves classic American dishes with a French / International twist. Walt's is consistently rated the best restaurant in the "Marne-la-Vallée" area.
Back in 1992, the restaurant featured two seating areas, one on the ground floor and one on the first floor. The ground floor was divided into three dining rooms and entirely dedicated to mister Walt Disney and Main Street USA.

The elegant dining room with the fireplace (along Main Street USA) was adorned with photos of Walt and his wife Lillian, in Europe, to show their love for / connection with the old continent.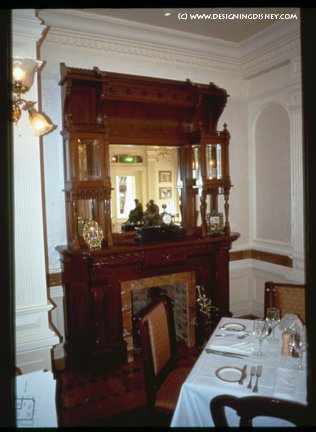 The second room was dedicated to Main Street USA. It featured:
Concept art of Town Square.
Concept art by Herb Ryman.
A scale model of the "Bixby Babies" / "Main Street Transportation" buildings.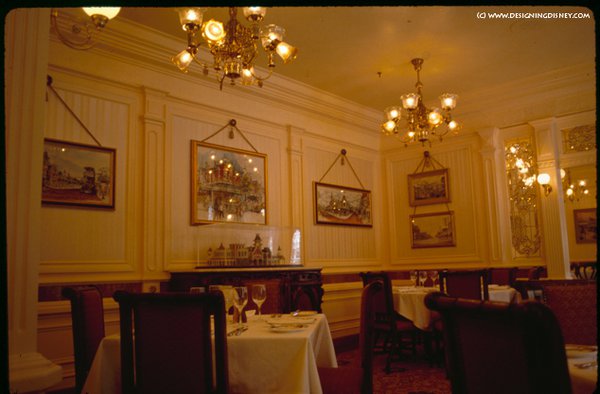 The third room paid tribute to Walt Disney's personal connection to Main Street USA. There were photos of his hometown (Marceline, Missouri) and the "Carolwood Pacific Railroad" (a live steam backyard railroad, built in the garden of his home in Holmby Hills, Los Angeles, California, USA).
The Walt Disney Imagineers wanted the guests to understand where Main Street USA (and Walt himself) came from.
In June 1999, the ground floor seating area of "Walt's, an American Restaurant" was turned into "Lilly's Boutique". All decorations were removed except for the fireplace.
Credits
Photos: the private collection of Walt Disney Imagineer, mister Eddie Sotto, Show Producer of Main Street USA at Disneyland Paris