Lost Treasures - Adventureland
Adventureland Bazar
'The spirit of adventure is often linked with exotic, tropical places. Many of us dream of traveling to those mysterious, far off regions of the world' (Walt Disney). This is what one can do the moment you pass under the portals of Adventureland, Disneyland Park, Paris. Welcome in the Adventureland Bazar!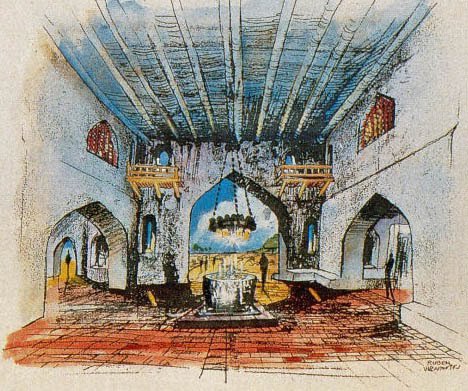 This is a fascinating maze of winding lanes, little squares and wonderful gardens, where oriental merchants once beckoned you into their mysterious shops, craftsmen sat cross-legged plying their trades and musicians played a serenade to the seductive accompaniment of a softly splashing fountain.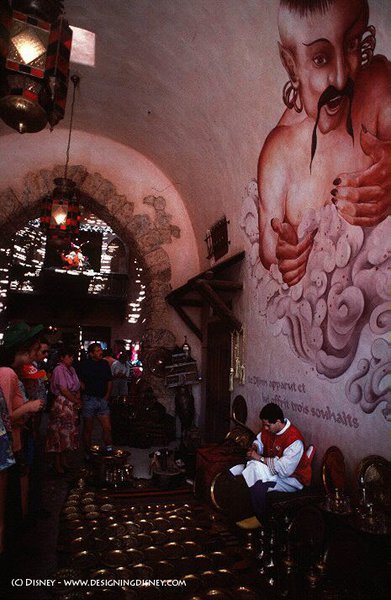 This indoor shopping arcade featured a central alley and four distinct boutiques.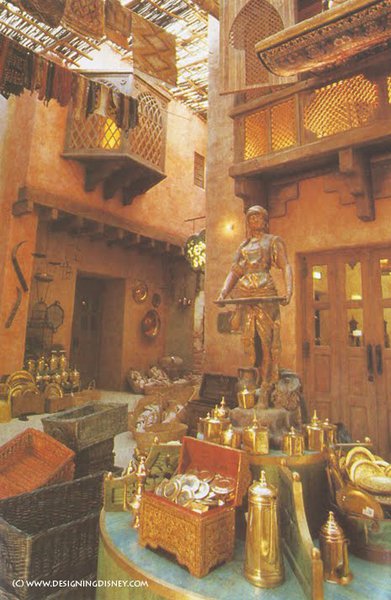 Les Trésors de Schéhérazade – Articles des Milles et une Nuit
This Arabian boutique was named after "Scheherazade", the legendary Persian queen and storyteller of "One Thousand and One Nights", a collection of Middle Eastern and South Asian stories and folk tales compiled in Arabic during the Islamic Golden Age.
The main frame story of the "Arabian Nights" is about "Scheherazade" and her husband, the Persian king, who executed each of his wives after a single night of marriage. In order to postpone her own execution, Scheherazade begins to tell, on the night of their marriage, the king a tale, but does not end it.
The king is thus forced to postpone her execution in order to hear the conclusion. The next night, as soon as she finishes the tale, she begins (and only begins) a new one, and the king, eager to hear the conclusion, postpones her execution once again. So it goes on for 1,001 nights.
The interior of "Les Trésors de Schéhérazade" was inspired by the story of "Sinbad the Sailor". Sinbad is the hero of tale 120 in Volume 6 of Sir Richard Burton's 1885 translation of "One Thousand and One Nights". During his seven voyages, Sinbad the Sailor visits magical places, meets terrifying monsters, and encounters supernatural phenomena.
Sinbad's seven voyages begin, and each are framed, by the opening story wherein the now wealthy "Sinbad the Sailor" plucks from the street and invites the lowly, hard-laboring "Sinbad the Porter" into his plushly appointed home and relates each of his adventures, hoping, thereby, to inspire his namesake Porter to advance his position in life through lessons learned through his travels.
In the "Les Trésors de Schéhérazade" shop, Oriental rugs and fringed shawls hung from the rough adobe walls, while below were dresses of the finest Egyptian cotton, belts, bags of scented Moroccan leather and jewelry gathered from all over the Orient. In an out-of-the way corner, guests could have a cup of peppermint tea or taste some Greek, Oriental or African sweets (like filled dates or Turkish honey).
A huge wooden camel could be found in the middle of the boutique. Above the structure, swords were stuck in the ceiling. The story goes that Sinbad conquered them all from its enemies.
La Reine des Serpents – Cadeau Exotiques
This store was named after the Serpent Queen, a mythical creature from the tales of "One Thousand and One Nights" that is supposed to have the body of a snake and the head of a beautiful woman. "La Reine des Serpents" boutique sold jewelry cases, Indian tablecloths and Egyptian perfume bottles.
L'Echoppe d'Alladin
L'Echoppe d'Aladin (Aladdin's Workshop) carried a vast selection of stylish clothing and accessories. It housed a king's ransom of exotic jewelry that spilled out into the streets from its open doors.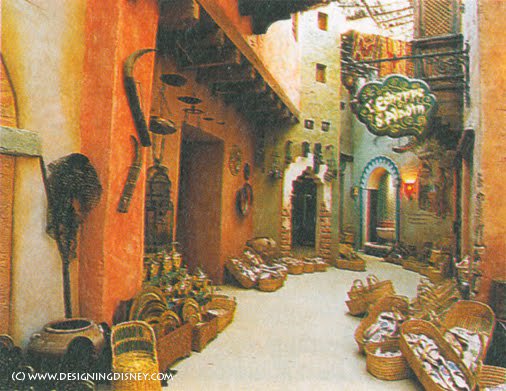 Guests needing a spot of helpful advice in this store of gems could get it from a friendly tiger that sat benignly above looking down from his magic carpet.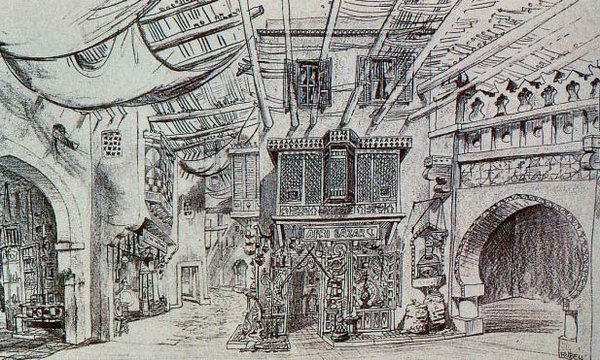 Le Chant des Tam-Tams
In this mud and wattle hut, East African tribal artifacts, beautifully crafted baskets, gaily painted pottery and strange carved wooden figures were sold.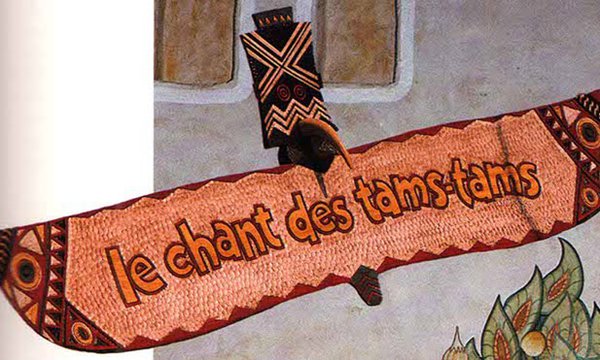 Now "Agrabah Café Restaurant"
Twelve years ago, the shops "La Reine des Serpents – Cadeau Exotiques", "L'Echoppe d'Alladin" and "Le Chant des Tam-Tams" were converted into "Agrabah Café Restaurant". "Les Trésors de Schéhérazade" is now the only boutique left in Adventureland Bazar.
But most off the theming of the closed shops can still be found inside the "Agrabah Café Restaurant". That makes it probably the most beautiful restaurant in the Disneyland Park.
Explorers Club
Back in 1992, the "Explorers Club" restaurant boasted some of the most fabulous food in the Disneyland Park. Here you could enjoy specialties from Africa and beyond, like chicken, shellfish and roasted lamb.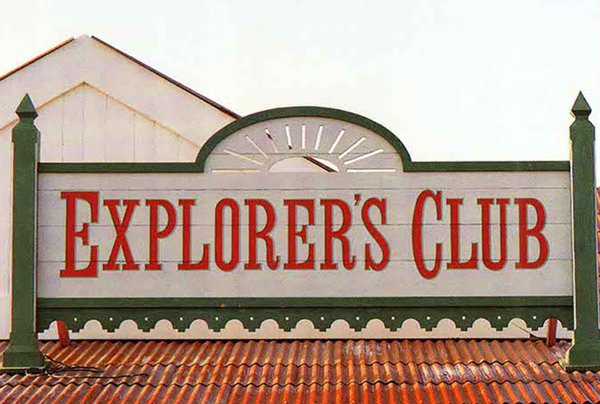 The very best authentic cuisine was quietly and attentively served among lush vines, tropical trees, chattering parrots, rare exotic flowers and special game trophies. Paintings of exotic landscapes adorned the walls. This captivating safari restaurant had a cocktail bar as well.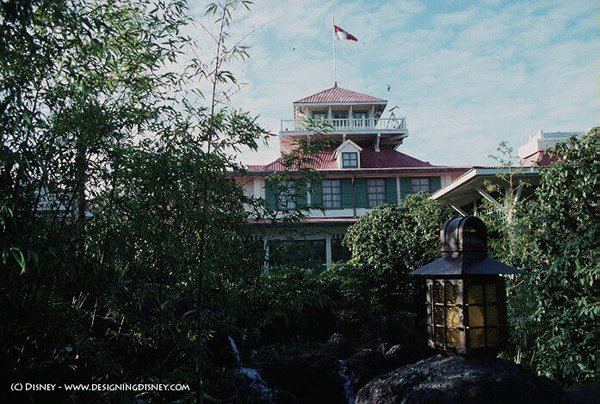 Cast members dressed up like David Livingstone or Ernest Hemingway entertained the little ones by telling stories, singing songs or playing the ukulele.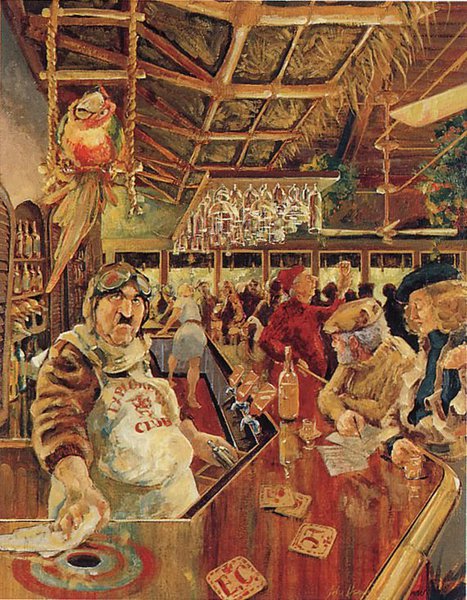 In 1993, it was decided that the Disneyland Park didn't need that much table restaurants than originally envisioned. Therefore, the "Explorers Club" was transformed into "Colonel Hathi's Pizza Outpost". However, the interior of this counter service restaurant still includes much of the original theming.