Designing Main Street USA - Cable Car Bake Shop
In the late eighties, San Francisco was surveyed as the most popular place for Europeans to visit in the United States. Walt Disney Imagineer, mister Eddie Sotto, felt that dedicating part of Main Street to San Francisco would have a great appeal. This beautiful city seemed to be the perfect inspiration for the 'Cable Car Bake Shop' & 'Market Street'.
One of the things San Francisco is famous for is its 'painted ladies' style of decoration. Painted Ladies is a term used for Victorian and Edwardian houses and buildings painted in three or more colors that embellish or enhance their architectural details. The term was first used for San Francisco Victorian houses by writers Elizabeth Pomada and Michael Larsen in their 1978 book Painted Ladies - San Francisco's Resplendent Victorians.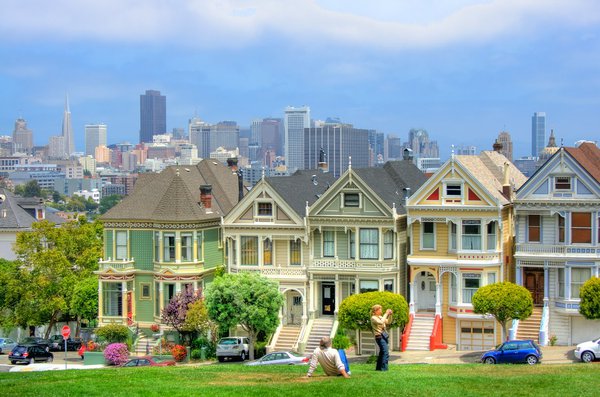 This style of decoration was used by mister Sotto and his creative team while developing the color scheme for the exterior of the 'Cable Car Bake Shop' and the 'Market Street' buildings.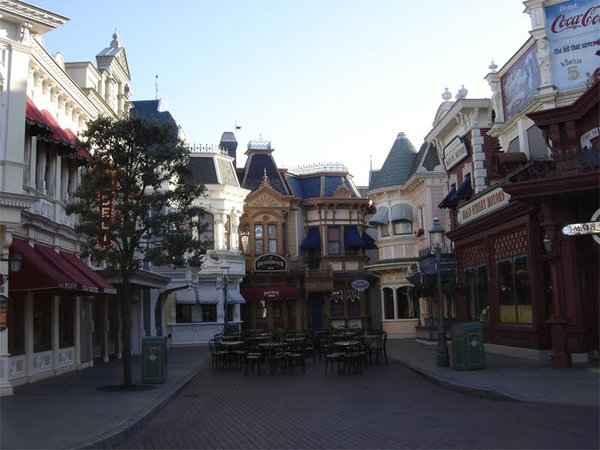 The interior of the 'Cable Car Bake Shop' is characterized by its pinstriped moldings, stained glass, intricate wall covering and brass fly fans. The upside down fly fans that line the dining area are based on historic research from a real cafe that that once existed in New York City (42nd Street). Mister Sotto thought they were very unique and fun. So he decided to have them custom made for the Disneyland Park (comparative study below).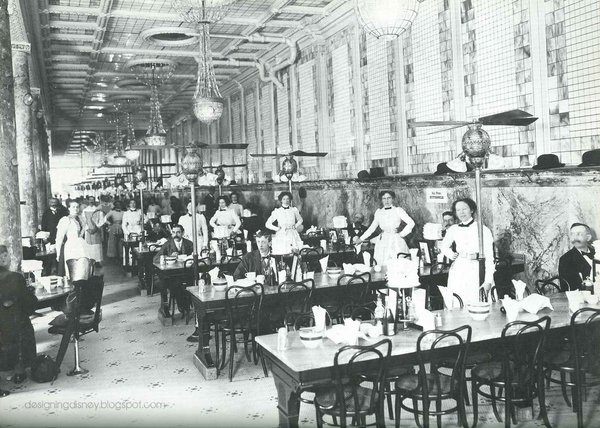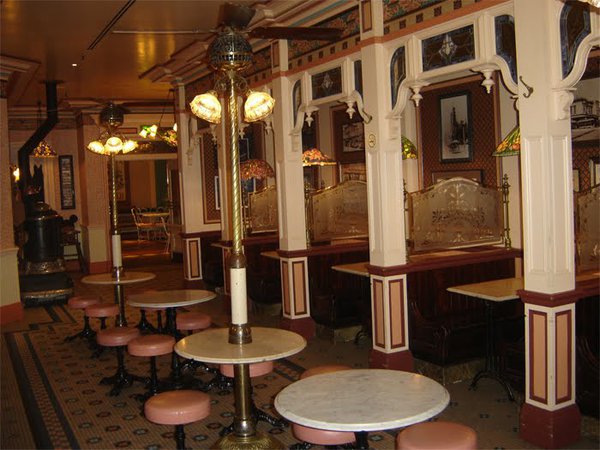 Notice the brass fly fans in the middle, tin ceiling and hexagon tile floors. The same fans, ceiling and floors can be found in the Bake Shop.
The Imagineers tried not to make the 'Cable Car Bake Shop to luxurious, but rather simplistic and fun. A small stove was integrated into the facility to make it appear warm and inviting to guest.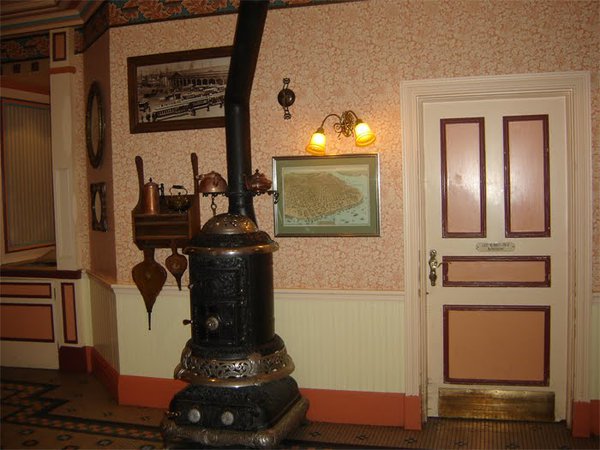 As with all of Main Street, mister Sotto and its team wanted to educate about all things Americana. Here guests learn about the unique mode of transportation known as the cable car. It is a mass transit system using rail cars that are hauled by a continuously moving cable running at a constant speed. Individual cars stop and start by releasing and gripping this cable as required. The San Francisco cable car system is the world's last permanently operational manually-operated cable car system.
One of the prop buyers, Imagineer Connie Holtz, made it a mission to find and collect the artifacts found in the bake shop. She lived in the San Francisco area and kept her eyes out for special San Francisco and cable car memorabilia. There are blueprints of the cable cars, images of their conductors, maps of San Francisco (the large map in the rear dining room is a personal favorite of mister Sotto), sections of original cable car rail in which to hang your coat and even a bell (from a cable car) to ring so every guest can feel like they've been a conductor.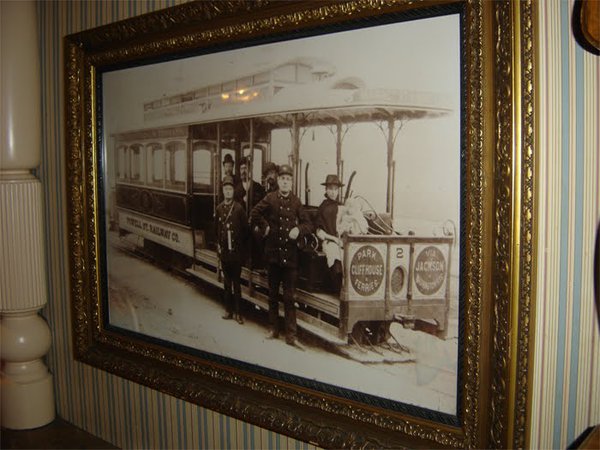 No history of San Francisco would be complete without mentioning the great earthquake of 1906. That is why mister Sotto installed a Cail-O-Scope machine (coin operated, hand cranked, animated picture machine invented in 1904 by the Caille Brothers) to show guests what really happened.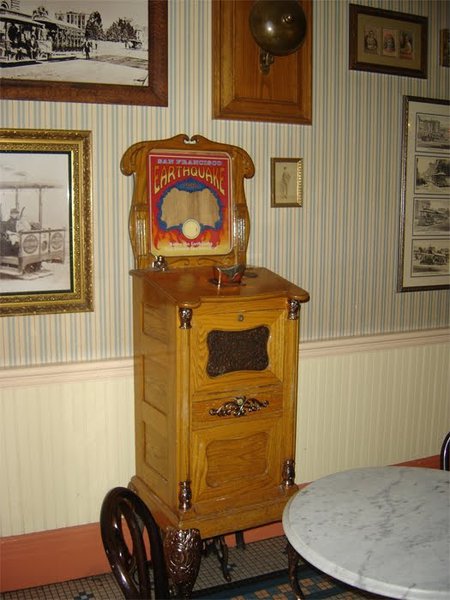 The San Francisco earthquake of 1906 was a major earthquake that struck San Francisco, CA and the coast of Northern California at 5:12 A.M. on Wednesday, April 18, 1906. It had a estimated magnitude of 7.8. The earthquake and resulting fire are remembered as one of the worst natural disasters in the history of the United States. The death toll was estimated to be above 3,000. The economic impact has been compared with the more recent Hurricane Katrina.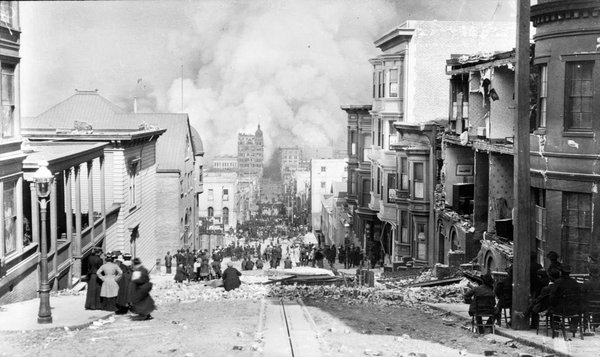 The cable car bake shop is one of mister Sotto's favorite locations on Main Street. He was extremely pleased with the results of the efforts made by his team of designers.