Designing Main Street USA - The Gibson Girl Ice Cream Parlor
The Gibson Girl Ice Cream Parlor was designed to be the place in a small town where teenage boys or young girls would meet for a soda.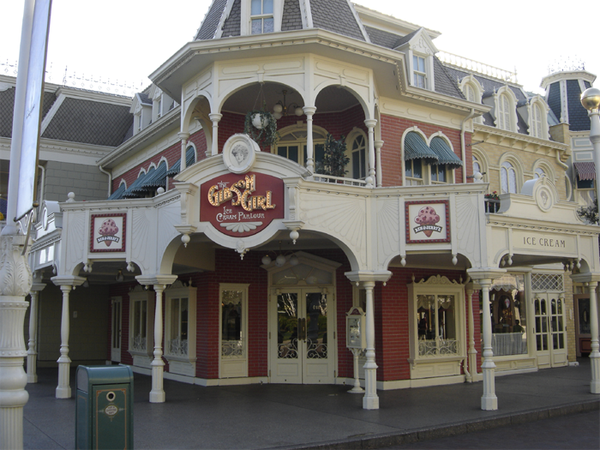 The color scheme for its interior was painting black and cream using marble and rich woods. The checkerboard floor pattern is typical for a turn-of-the-century soda fountain.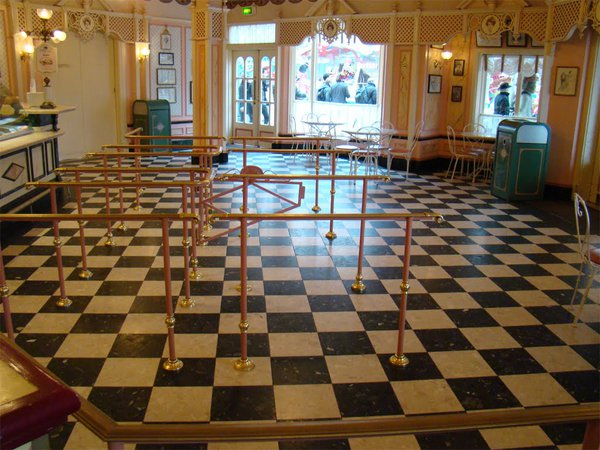 The chairs of the Gibson Girl are uniquely American. They are known as sweetheart chairs and made on a very special wire bending machine that twists each back of each chair. It features a wrought iron openwork back with a heart-shaped design and a round padded seat. They are classically seen in old fashioned ice cream parlors and soda shops.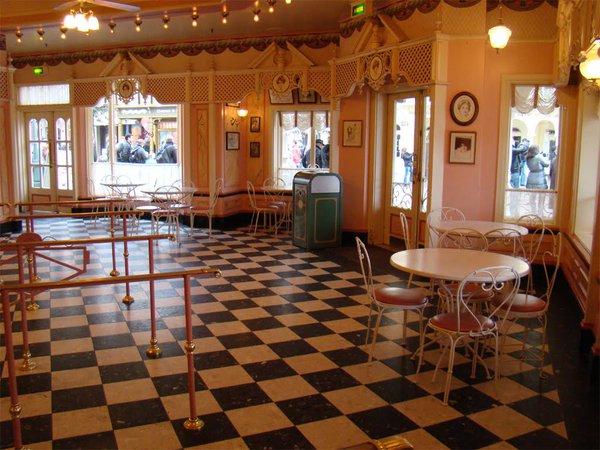 The back bar of the Ice Cream Parlor was inspired by an image in a historic Coca Cola catalog. In the good old days, the Coca Cola Company would provide certain accessories to drugstores that were willing to carry their products. The famous back bar is no exception. Walt Disney Imagineer Eddie Sotto wasn't able to find an original one. So he created it from the photograph.
The fly fans on the ceiling are driven by belts. They are vintage and were shipped from the United States of America as antiques.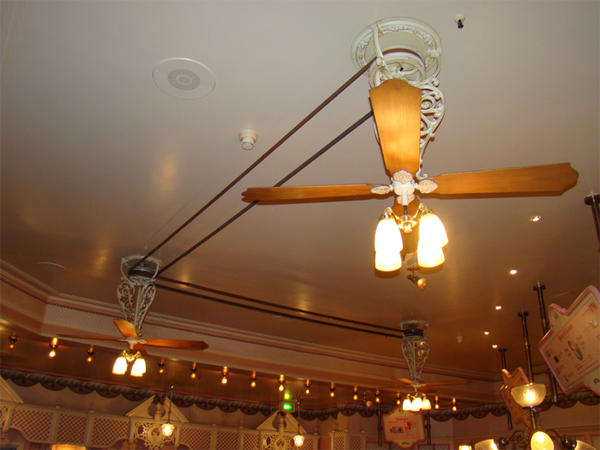 The music at the Gibson Girl Ice Cream Parlor differs from the other tunes that can be heard on Main Street USA. It is inspired by the work of Fritz Schulz-Reichel, a German jazz and pop pianist who called himself "Crazy Otto". He invented a device called the Tipsy Wire Box, which could be attached to a piano to make it sound like an out-of-tune barrelhouse upright.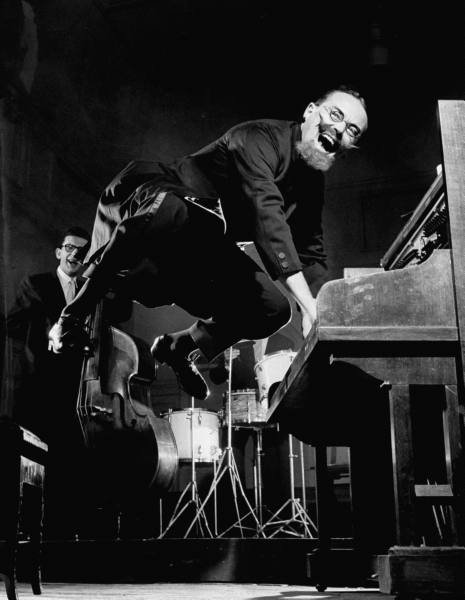 The Gibson Girl Ice Cream Parlor is a tribute to Charles Dana Gibson, an American graphic artist, noted for his creation of the Gibson Girl, an iconic representation of the beautiful and independent American woman at the turn of the 20th Century. He was the highest paid illustrator of his time (making $1000 for per illustration for Collier's Weekly Magazine - $100.000, 4 year contract).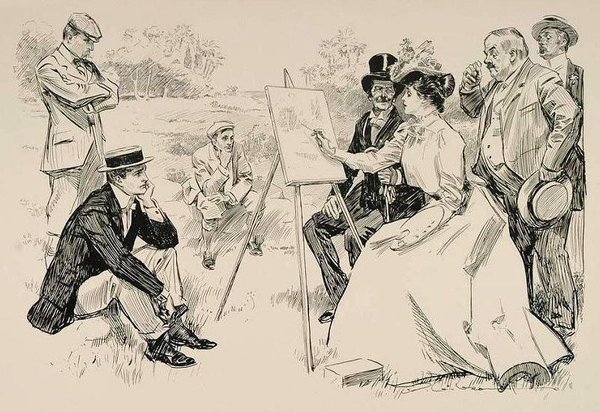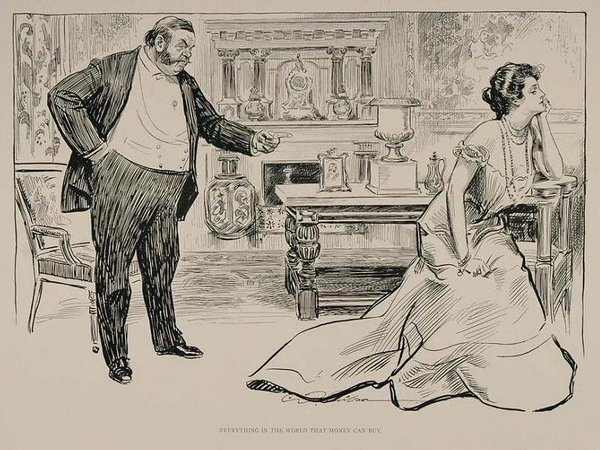 Mister Eddie Sotto felt that his funny drawings were appropriate to the space and the mood of the Ice Cream Parlor. He has spent lots of time selecting the funniest cartoons from many volumes of Gibson's work. Today, his selection can been found in one of the most Disneylicious places in Disneyland Paris.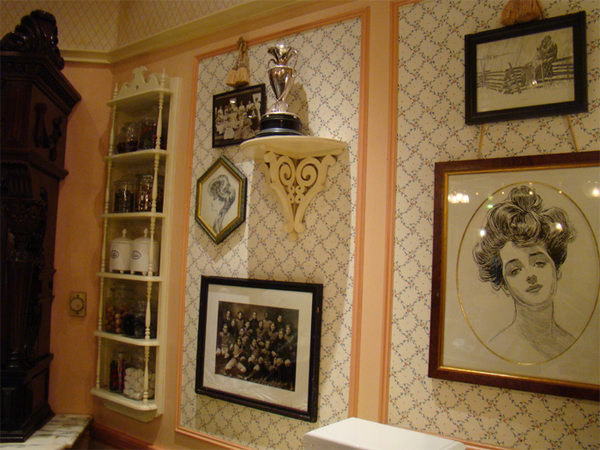 The Carnation Ice Cream Parlor - Disneyland California - Concept Art.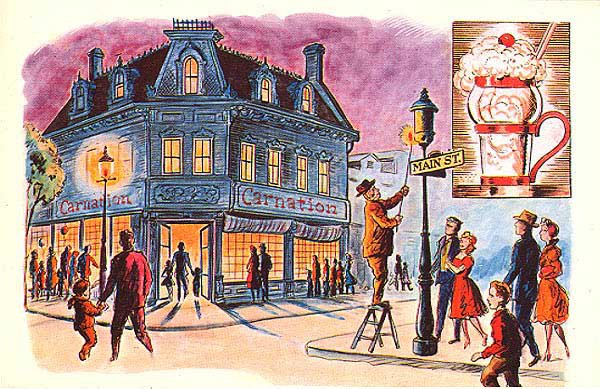 Credits
Photos:
Scrooge
Life Pictures (Crazy Otto)