Designing Main Street USA - Market House Deli
The 'Market House Deli' is an American style sandwich restaurant located on the right hand side of Main Street USA, Disneyland Paris.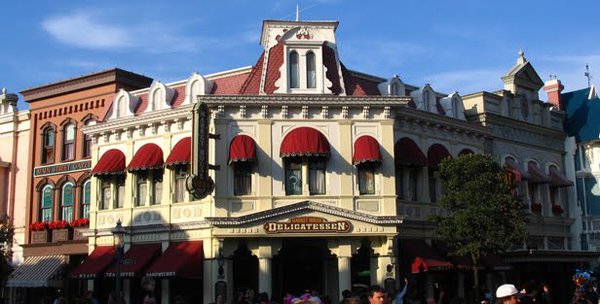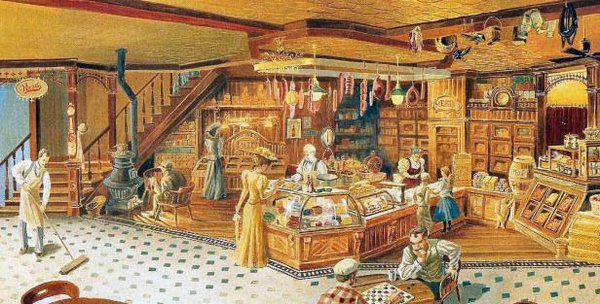 The restaurant has the look of a country market and a general store. At the turn of the nineteenth century, small towns had stores that sold many things, from food to household goods (like buckets).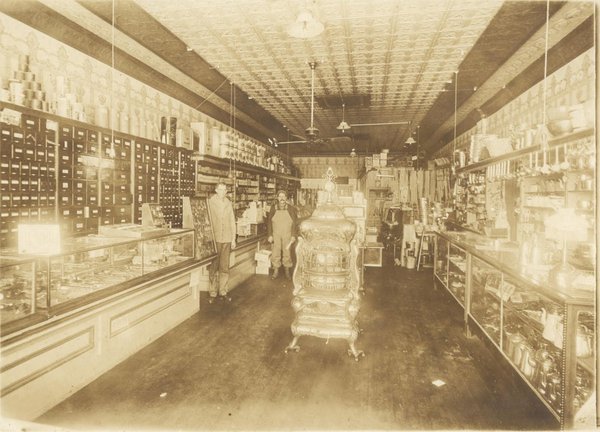 Walt Disney Imagineering decided to install an antique telephone switchboard behind the counter to give guests the idea that the telephone service was also located at the Deli.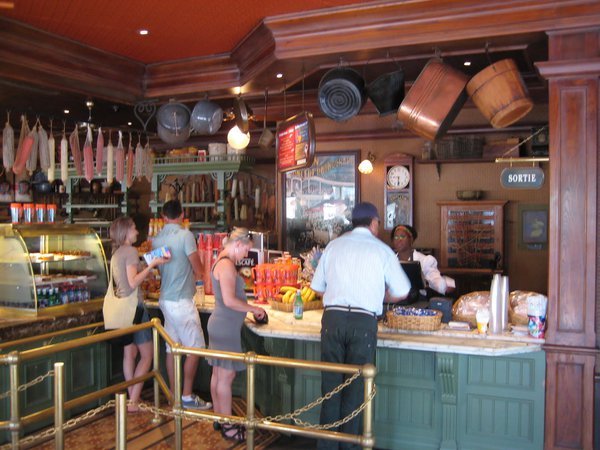 Mister Eddie Sotto, show producer of Main Street USA at Disneyland Paris, used the colors red and brown throughout the restaurant to lend a rustic feel to the space and to give it a masculine and warm look.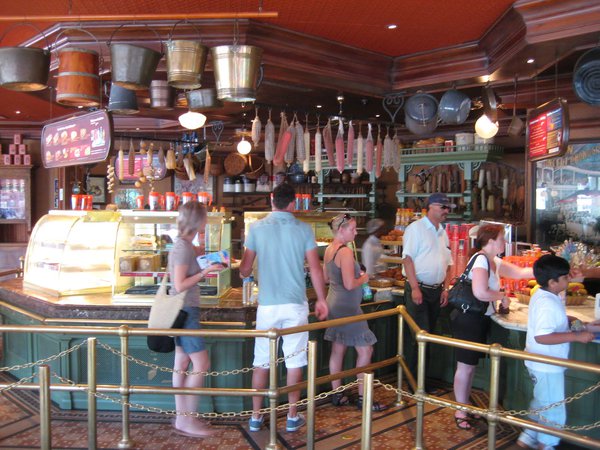 The ceiling of the 'Market House Deli' is made of fine pressed tin panels. A tin ceiling is an architectural element that was very popular in Victorian buildings in the late nineteenth and early twentieth century.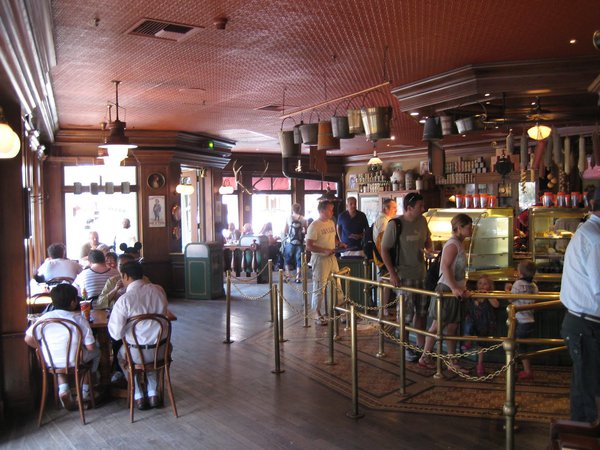 Historically, tin ceilings were introduced to North America as an affordable alternative to the exquisite plasterwork used in European homes. They gained popularity as Americans sought sophisticated interior design.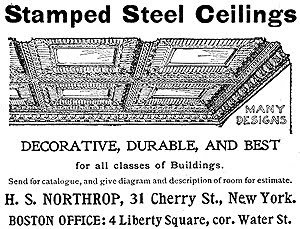 Durable, lightweight and fireproof, tin ceilings were appealing to home and business owners alike as a functionally attractive design element that was readily available.
The floor around the refrigerated deli cases has been tiled. In the Victorian era, tile was used in areas of heavier use and wear. Bars and counter service restaurants used to do this for sanitary reasons too.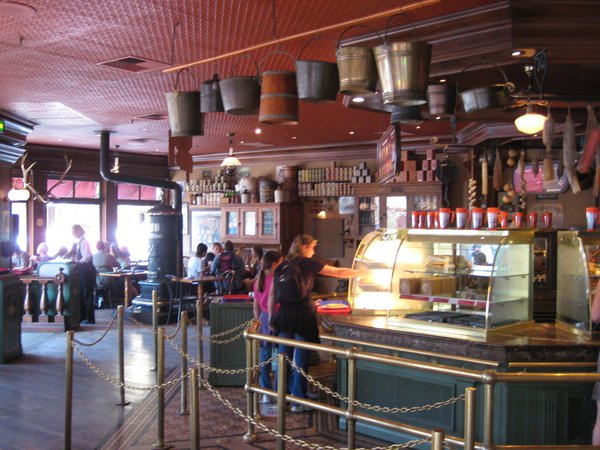 The restaurant is nicely decorated with posters and food cans. Most of the cans are real antiques, although Walt Disney Imagineering copied the labels so it looks like the Deli has many items to sell.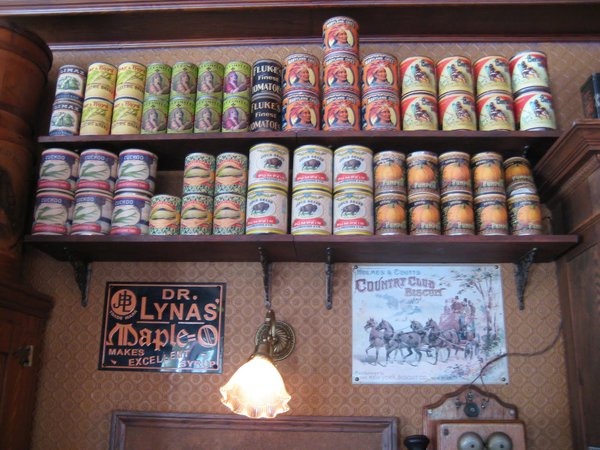 The 'Market House Deli' features a nice piano.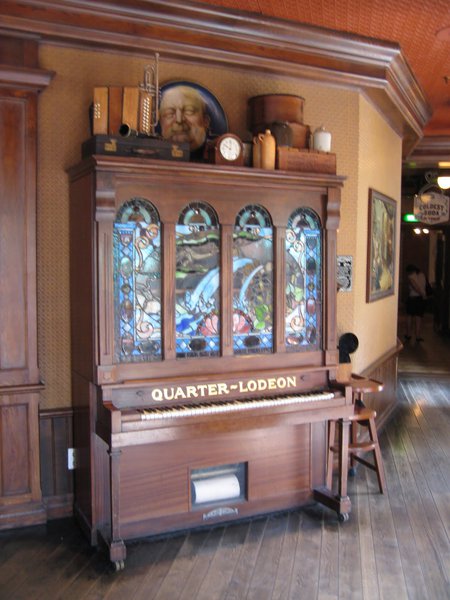 A traditional pot-belly stove (weighing over 203 kilograms) that came out a residential basement in Baltimore (Maryland, United States of America).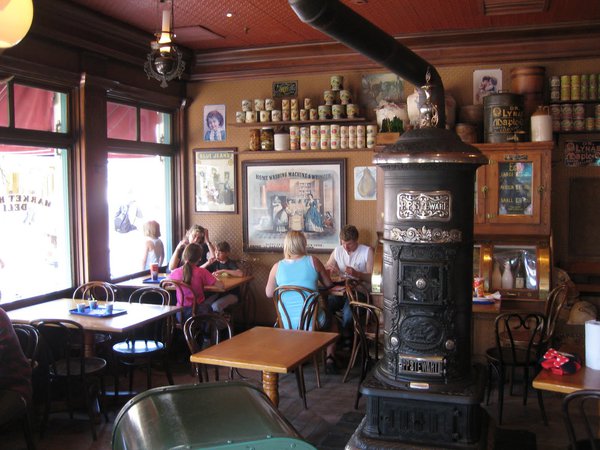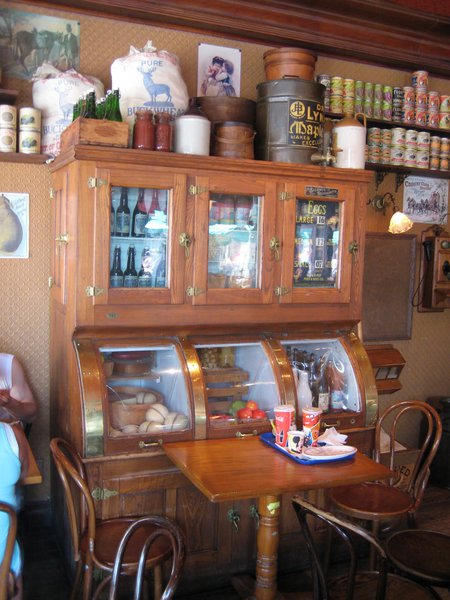 An Icebox was the common appliance for providing refrigeration before safe refrigerants made compact mechanical refrigerators feasible. Iceboxes had hollow walls that were lined with tin or zinc and packed with various insulating materials such as cork, sawdust, straw or seaweed.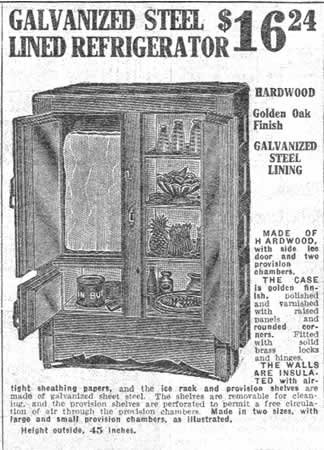 A large block of ice was held in a tray or compartment near the top of the box. Cold air circulated down and around storage compartments in the lower section. The user had to replenish the ice which melted, normally by obtaining new ice from an iceman.