The Genesis of Disneyland: the 1951 "Riverside Drive Park"
While constructing the twenty-five-building Burbank complex, Walt Disney was searching for ways to change the nature of / expand his business. Due to the popularity of his cartoons, children from every corner of the country wrote to Walt, wanting to come to Hollywood and see the place where Mickey Mouse lived. Public demand had already forced some of the other studios to open up the gates to their backlots. By inviting people over to the Burbank complex, Walt could make lots of money. Although, he thought there wouldn't be much to see at the Disney Studios. Tourists would be bored by the painstaking technicalities of animation.
But a little park, with statues of Mickey and the other characters, with picnic tables, grass and trees. That would be great! A place for all the kids who wanted to meet Mickey. That was what he really wanted. Some kind of high quality family park without "the typical Midway stuff". A ideal, imaginary, long ago world that would teach the visitor about the development of American ideas of work, comfort, domesticity and urbanism. An American Tivoli, with strong overtones of Greenfield Village and Colonial Williamsburg. That would be a blast. Walt proposed the lot across the street from the studio as a suitable site. The 'Riverside Drive theme park project' was born.
In the early fifties, Walt Disney lured Harper Goff away from the Warner Bros. Studio, and assigned him to draw up plans for his "magical little park".

Harper Goff's picture of the park shows a railroad depot in the foreground, a townscape to the left, a farm on the right, an Indian village, trains of several eras and a stagecoach. Victorian gingerbread and a crude frontier water tower. Trestles and trees and lakes, tied together by a series of gentle ovals formed by roadways. The second plan enlarges the lake end the island, organizes the town around a central hub, inserts a covered bridge and an old mill, and adds an old-fashioned circus at the corner of the lot.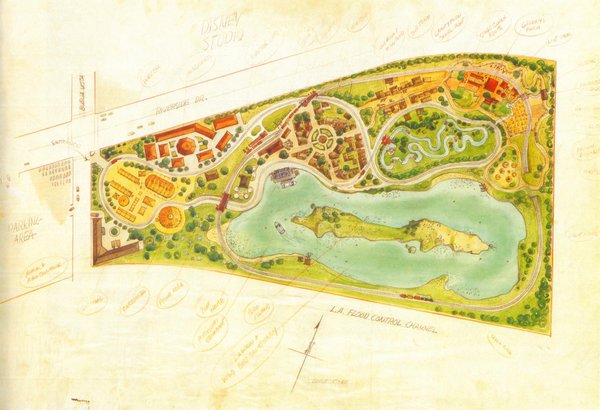 In the end, Disney's park wouldn't go on Riverside Drive in Burbank. Neither words nor images moved the city to authorize the construction of the project. They didn't want the carny atmosphere of a theme park in Burbank. In 1955, Disneyland opened its gates in Anaheim, California. The sixteen-acre wedge of wasteland on the flood-control channel across the street from the studio became the location for the Walt Disney Feature Animation Studios and the ABC executive offices.