Creating Disney Magic – Disney VoluntEARS
What is Christmas really all about? Christmas isn't just about the presents or decking the halls with boughs of holly. The Christmas season is a time of showing kindness and helping others too.
That's why our 2015 Christmas series "Disneyland Paris – Sharing the Magic of Christmas" is dedicated to how Disneyland Paris is doing its best to help those in need. In the first installment, Annabel Altmann (Senior Manager Corporate Citizenship) and Eric Pires Augere (Coordinator Charity Events) tell us what the corporate citizenship and 'Disney VoluntEARS' program at Disneyland Paris is all about. We met them during the visit of the charity "Le Noel des Déshérités".

Designing Disney (DD): When and how did the 'Disney VoluntEARS' program start?

Eric: Everything started in 1983 in California. A group of Cast Members wanted to do something for the local community. So they began to organize actions for children and their families. With the success of this initiative, the Walt Disney Company decided to support and expand it. The program was named 'Disney VoluntEARS' and exported to all Disney branches around the world.

DD: When did the 'Disney VoluntEARS' program start at Disneyland Paris?

Eric: We started in 1991, one year before the opening of the Disneyland Park. The idea was introduced by the Americans who came to show us how we had to run a Disney theme park. Our very first action was a visit to a hospital because we couldn't invite Guests into the Park as it was still under construction. So we brought the Disney characters to the children in the hospital. We also organized the collection of food, glasses, medicine…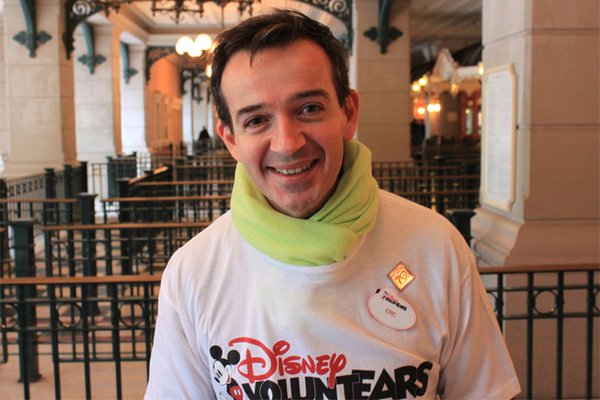 DD: What are the goals of the Disneyland Paris corporate citizenship program?

Annabel: The corporate citizenship program aims to the well being of children and their families. We especially want to take care of children who are underprivileged, sick or suffering from a handicap of any kind. We work around four different topics. These are what we call the four pillars of corporate citizenship, in no particular order: the environment, solidarity, healthy living and creativity. The first one is the environment. We take initiatives that introduce children to environmental values. For example, in springtime, we organized a garbage collection with the local schoolchildren. We also did some cleaning of the rivers just outside Disney. Kids and their parents went on canoes to collect things that people throw in the water. The second topic is solidarity. So it's days like today where we invite underprivileged children and their parents to come and visit our Parks. It offers them some kind of escape from their daily life that is sometimes not very nice. We also visit hospitals with Mickey and Minnie or other characters to bring a bit of Disneyland Paris to the children who cannot come to the Resort because they are in a hospital bed. And we have the 'Disney Wish Program'. We work with organizations that try to grant the wishes of, sometimes very sick, children. This year we helped to make a 1000 dreams come true. The third one is healthy living. We try to get children up from their couch, do sports and eat well. And the last one is creativity. We organize workshops to encourage children to be creative in some kind of way. For example, during the Christmas season, we'll make greeting cards with them.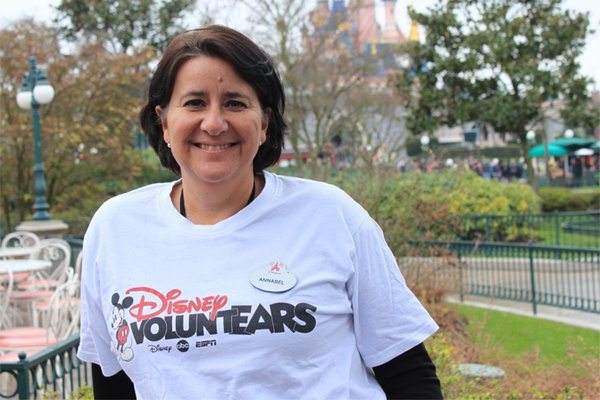 DD: How are the charitable causes or organizations selected?

Annabel: We work with all the major national (like 'Secours Populaire Français') and some international organizations. They have to have the same goals and values as us, which is the wellbeing of children and their families.

DD: How much time does it take to organize a 'Disney VoluntEARS' event?

Eric: It depends on the type of event. We always take the time to organize everything perfectly so that we can be sure that our event will meet the expectations of the children and their families. Over the summer, we invited 7000 children from 'Secours Populaire Français'. We started to work on this event in January and began welcoming them in June. So you can imagine… six months! It was a huge undertaking. For today's visit, 'Le Noel des Déshérités' contacted us six months ago and asked if it was possible to organize a visit of the Park during the Christmas season. In September, we started to work on the agenda. And here they are today!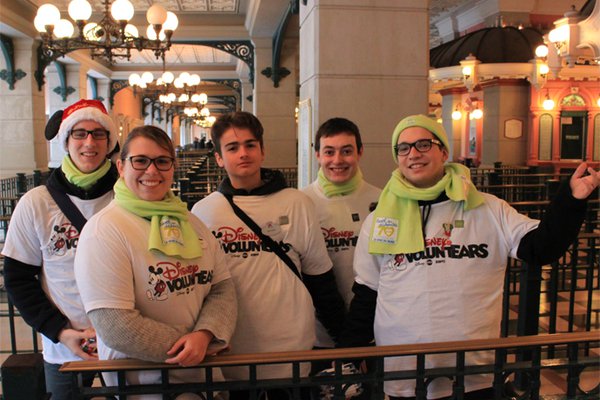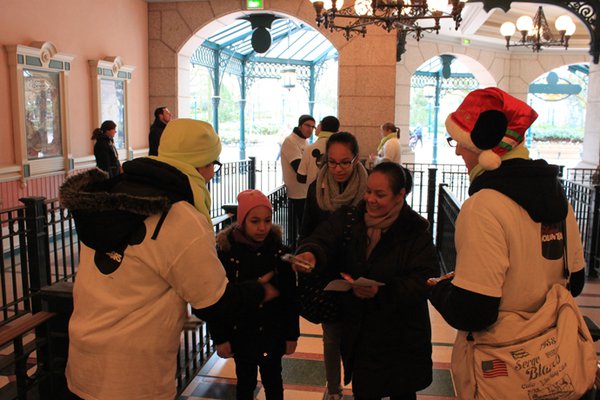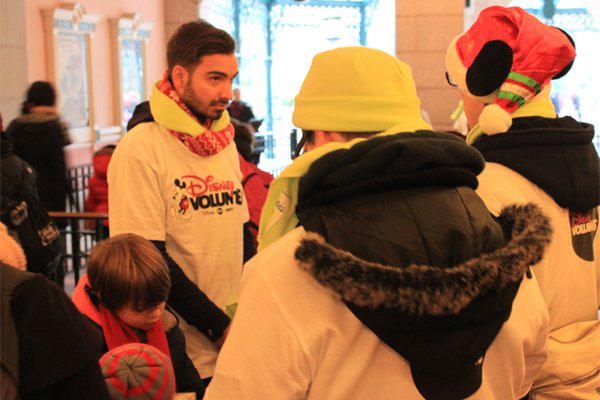 DD: What steps need to be taken to organize a 'Disney VoluntEARS' event?

Eric: During today's event, the children and their parents will be welcomed by the 'Disney VoluntEARS' at a ticket booth, get free parking, small presents and have a special area to see the parade. For all these things, different departments need to be involved. We have to book the ticketing booth. We work with Merchandise to have the gadgets and sweets. We have to arrange the free parking. And we'll book the area for the parade with Guest Flow. So it's a challenge… but a pleasant one!

DD: How can a Cast Member become a 'Disney VoluntEAR'?

Eric: As soon as you're a Cast Member, you can be a 'Disney VoluntEAR'. When they have the desire to share their skill and some of their time with the community, they're more then welcome. But there's no obligation. We attract highly motivated Cast Members who live the Disney philosophy and who want to share their passion with the children and their families.

DD: Can every 'Disney VoluntEAR' participate in every event?

Eric: Usually, the supply is bigger than the demand. For example, we didn't need any more 'Disney VoluntEARS' for today's event as of last week. Tomorrow, we're organizing a Disney workshop at the American embassy. And, as it's a special place, everyone was interested and wanted to go. So we didn't have any trouble finding people.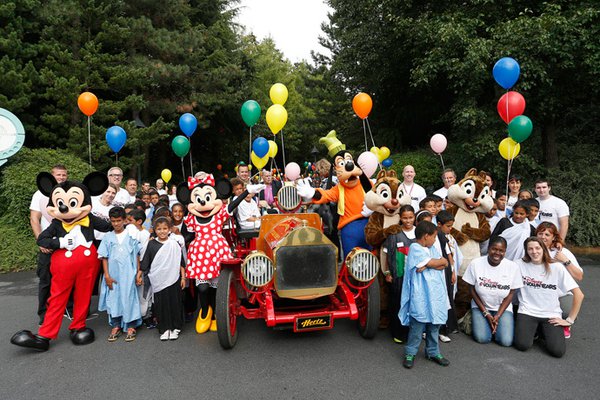 DD: Do the 'Disney VoluntEARS' receive some kind of reward for their efforts made?

Eric: Yes. We have a reward program that was created by The Walt Disney Company. We ask everyone to count their hours as 'Disney VoluntEAR'. At the end of the year, if you have for example 10 hours of volunteering, you get a check of $ 100 to give to a charity of your choice. Ultimately, if you did more than 150 hours, you're given a check of $ 2000 to give to a charity. Each year, we give more than $ 100.000 away!

DD: How many Cast Members participate in the Disneyland Paris 'Disney VoluntEARS' program?

Eric: We now have more than a thousand. I think 1158.

DD: How many 'Disney VoluntEARS' usually participate in an event?

Eric: That varies from event to event. We need two 'Disney VoluntEARS' to organize a workshop. To grant a wish, we only need one to welcome the family and realize the wish of the child. But for example, this summer, we had an event for which we needed hundreds 'Disney VoluntEARS'. So it really depends on the event.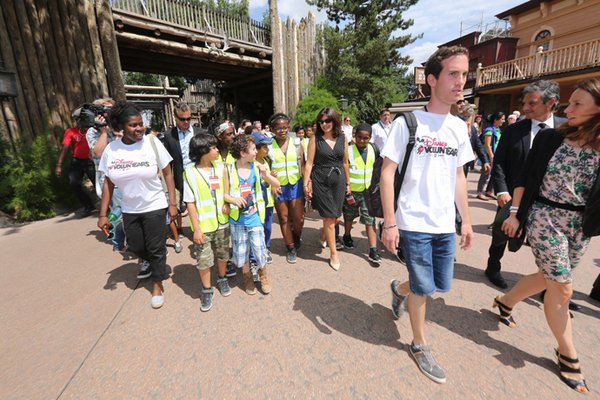 DD: Could you give us some examples of events that were organized in the past months?

Eric: Maybe the biggest event of the year was organized for 'Secours Populaire Français'. It's a huge charity that has a branch in each region of France. From June until September, we invited 7000 children as part of their 'Campagne Vacance' program. A survey demonstrated that each year, one out of three children won't go on summer holiday. Furthermore, it said that it is important for every child to be able to have some fun during the vacation. Because when they are back at school, they might have a writing exercise about what they have done in the previous months. So we gave 7000 children the opportunity to discover our Parks. Some of them came from abroad. Each time, we tried to match a child with a 'Disney VoluntEAR' with the same roots. Binta, for example, is a 'Disney VoluntEAR' from Mauritania who welcomed a group of children from that country. So you can imagine, being welcomed in their own language was something special. And Binta inspired the children with her personal story of how she came to France and built her a future. It was a big day for them!

DD: Could you give us some examples of events that were / are organized this Christmas period?

Eric: During the Christmas season, we have many events in the Parks. We invite underprivileged children and their parents to visit us and discover the magic of Christmas at Disneyland Paris. We also did a hospital visit in Paris. And we'll have another one on December, 23. We invited underprivileged children to the 'Opera Bastille' to give them the opportunity to discover a whole new world. And we organized a lot of activities in the neighboring schools. Some of our teams, like First Aid, Fire Prevention, Legal and the Gardening Department went in to explain their job.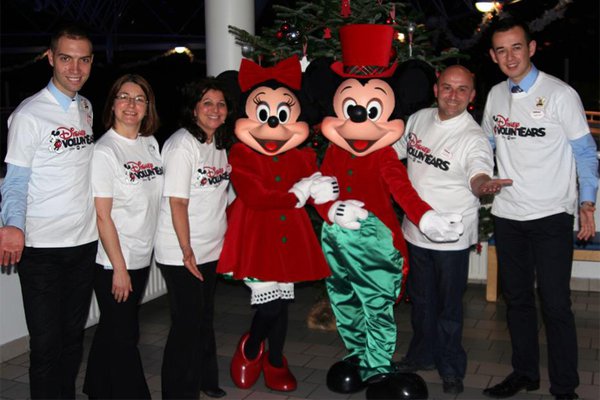 DD: What was for you the most memorable event?

Eric: It's difficult to choose just one event. But there is one thing I like to do and I recommend the 'Disney VoluntEARS' to do the same. As you know, for many children, it's their first visit to Disneyland Paris. So they don't know what they can expect. Often, I say to the children "Did you already see a real castle? The castle of a princess?. I'm going to ask you to close your eyes and follow me.". They will take each others hands, everybody closes their eyes and we go and stand in front of 'Sleeping Beauty Castle'. Then I count to five and say "Open your eyes!". And then it's my pleasure to see the reaction of the children! It makes you so proud to be involved in the 'Disney VoluntEARS' program.

Annabel: To see the children smile is a memory in itself. So it's hard to choose a particular event... But one that now comes to mind is an event that we organized in January for 'Secours Populaire Français'. We invited some girls and offered them princess dresses and threw a magnificent a ball. It was quite special. Those moments are precious! But I would like to say that all our events are memorable… because they touch all of us!
Credits
Photos Nr 1, 7, 8, 9: Disney