Creating Disney Magic – The Costume Department
A few weeks ago, the Designing Disney Blog had an exclusive interview with Mrs Sue LeCash, show costume designer & head of the 'Creative Costume Department'. Today, we show you how a Disney theme park costume is made.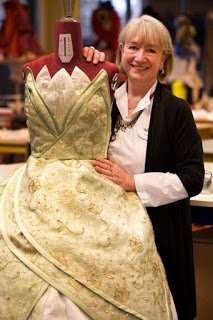 Designing Disney (DD): Mrs Sue LeCash, what is your job about?
Sue LeCash (SL): My job here at Disneyland Paris, is to design all costumes for shows, parades,... everything that is entertainment. And to manage a team of costumers.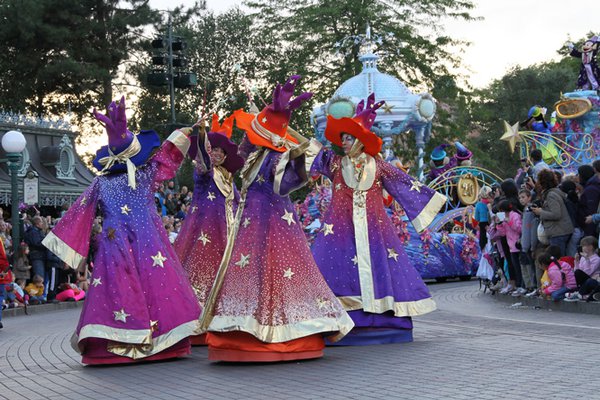 DD: What did you study?
SL: I'm English. I went to Saint Martin's School of Art in London, and I studied fashion. But having done that, I decided that I was much more interested in designing theatrical and musical costumes. So I soon applied for a position with the entertainment industry. And I was lucky to immediately find a job in one of the biggest television studios.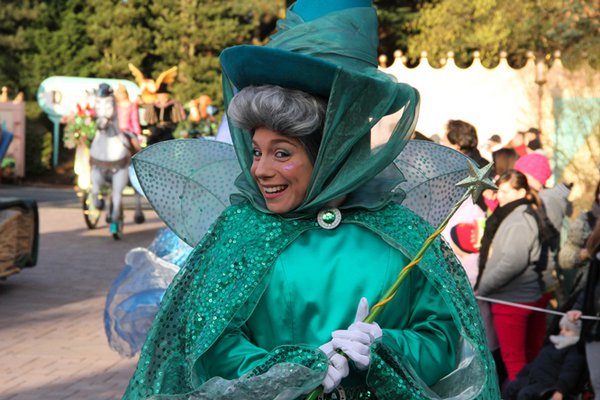 DD: When and how did you join Disney?
SL: I was asked by a head hunter if I was interested in coming over to Euro Disney because, as I did a lot for American television, Buena Vista Home Entertainment (motion picture and television feature distribution company owned by The Walt Disney Company) already knew my name.
DD: So you're here from the very first day in 1992?
SL: I arrived here on January 13, 1992 and I took over the job from the lady who did all the 'operational costumes' (costumes of the cast members working in the attractions, shops and restaurants of the resort) prior to the park opening.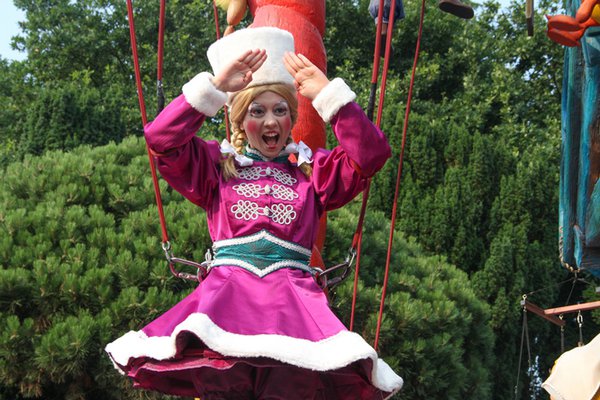 DD: Let's have a look at the design process. How do you try to reflect a specific theme (of for example a show or parade) in your designs?
SL: It depends. If it is a Disney theme tied to the Disney films, then obviously the inspiration comes from those films. If it is a theme like Christmas or Halloween, a lot of that is imagination, history, works of art and books, all of those things which inspire me. And, of course, I can also benefit from my experience.
DD: I suppose that the correct choice of fabrics and materials is crucial to deal with issues like hot / cold weather, wear and tear, comfort to wear,… How do you tackle these issues. Could you give some examples?
SL: Costumes get cleaned every day. Therefore, we need to choose our fabrics carefully. We always buy very good fabrics because they have to last. As far as winter and summer are concerned, we have our little secrets. In Winter, we often put clothes underneath the costumes so we can still have the lovely costumes on the outside. All our princesses have special winter jackets, so they can have their own princess look, without getting cold.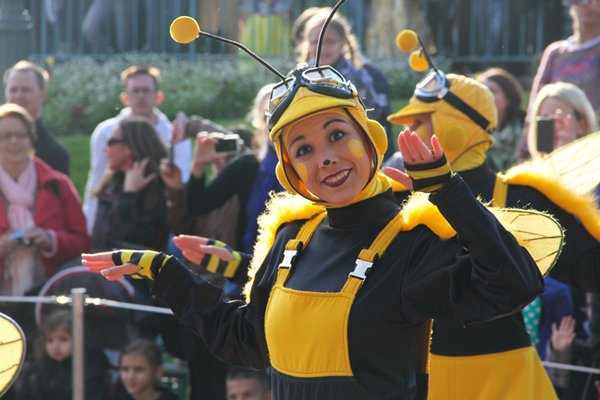 DD: Do you also design and take care of the costumes on display in the attractions?
SL: When I first came here, I did have that under my responsibility. But it was too much. Now we have a special team of people who look after the 'animatronic costumes'. They make repairs and changes. They do research for the fabrics and reproduce costumes in our couture workroom, but all of this is not under my responsibility.
Each morning, at dawn, all 'animatronic' costumes are inspected before the Parks open to the public.
DD: Are these costumes being designed in the United States? Do they differ from the other Disney parks?
SL: All the animatronic and operational costumes were designed specially for Disneyland Paris. They are in fact much more elaborate then the ones in the other Disney Parks. The Walt Disney Company made a very special effort to make sure that we had something very special here because France and Paris are known for its 'couture' and detail to costume. I think if you have seen the costumes, you will agree. They are very interesting and elaborate.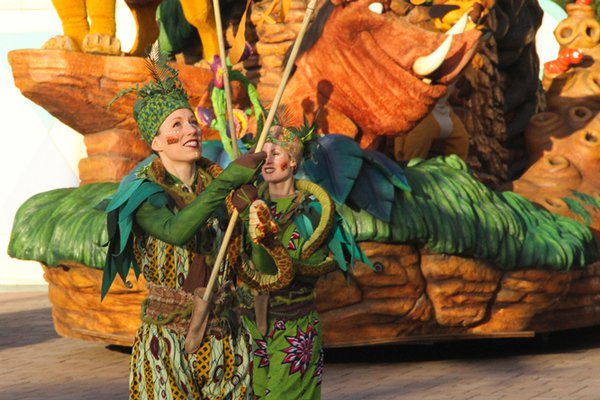 DD: How many people work in the couture workroom?
SL: We have 45 people working there. That is quite a large number! They repair and maintain the existing entertainment costumes and create new ones, like the princess costumes.
DD: What kind of equipment do they use?
SL: Our workroom is not industrial! There is much more handwork. In a factory several hundred costumes are all cut at the same time with lasers. Here, we cut all our costumes individually. And they have to be much more solid and made with a lot more detail.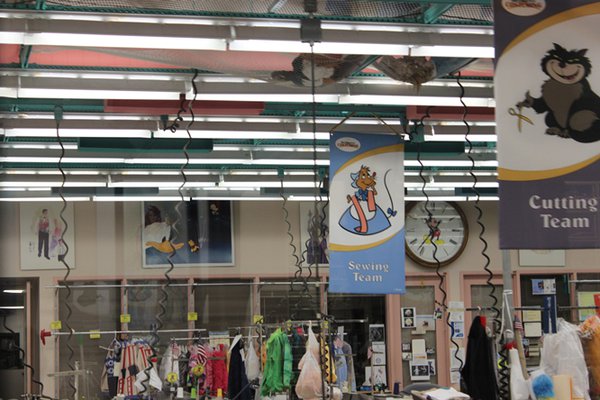 DD: What are the main steps to be taken to design and create a costume?
SL: The process can be divided into the following six steps:
The design.
The choice of the fabrics.
The choice of the production process.
The production of a 'toile' (version of a garment made to test a pattern).
The production of a prototype.
The production of the series of costumes.
DD: How many costumes does DLP have (in its wardrobe)?
SL: Several million of pieces of costume.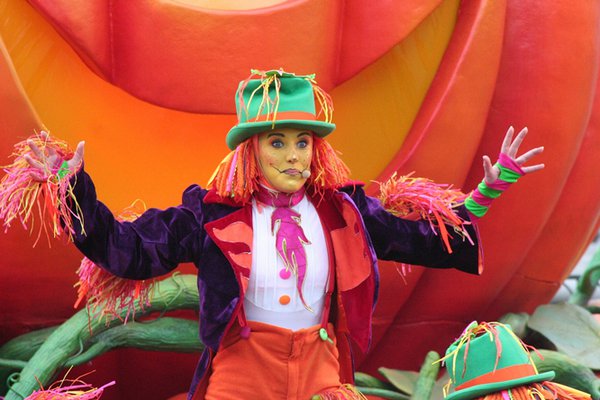 DD: Do you store every costume that has ever been made? What do you do with the costumes of the early nineties? Are these being kept in your archives?
SL: We do try to keep some, but no, obviously, we wouldn't have the space to keep everything, we have done so many costumes, I wouldn't know where we could keep them all. When they are really worn out or a show or parade closes, we take a decision, whether we keep some or we keep them all. It all depends on the state of the costumes or whether we could use them again.
DD: How is the wardrobe organized? How are costumes stored?
SL: We have a special team of people who manage our stock. Every piece of costume has its own code so it can be located quite easy. If we want to use some costumes of Halloween another year, we make a request and a team member will deliver them to the workroom where they will be checked.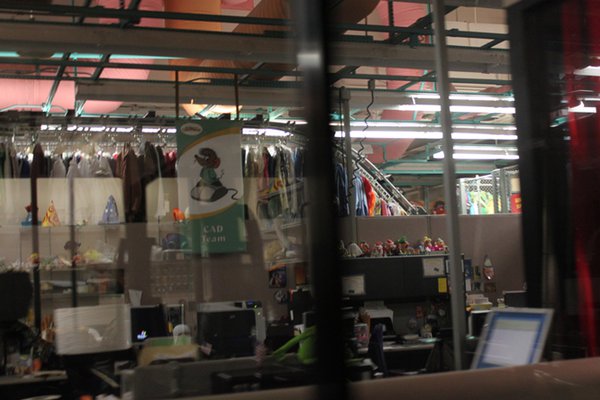 DD: How do you make sure that you have a costume that fits every cast member?
SL: If you talk about the operational costumes (for people who work in attractions, shops and restaurants) there we have to make an extremely large range of sizes. So no matter what size a cast member has, he or she can come over and ask us for a costume. They will get measured, and usually we are able to find something that fits. If not, we would occasionally make something specially for that person.
If you are talking about entertainment costumes (for shows and parades), we also have to make a range of sizes, but it is more controlled in the sense that usually performers have more or less the same size.
DD: How are they costumes being cleaned?
SL: Every day, all costumes get cleaned by an external company. They built a plant specially for Disneyland Paris back in the early nineties. Everything is collected in the late afternoon and returned by noon the next day. So we have a continuous turn over.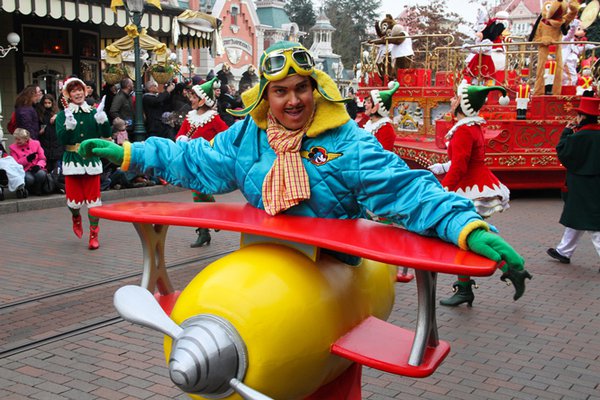 DD: Thank you so much for taking the time to answer my questions.
SL: It's my pleasure!
Credits
Photos:
Nr 1: Disney
Nr 3 - 7, 9, 11: Bert Snyers