Toy Story Playland - Trivia Time
General overview
In the all-new Toy Story Playland opening August 17, 2010, guests can descend 27 meters on a simulated parachute drop, race round-and-round on a zany coaster and zoom through a 25-meter half-pipe Hot Wheels track aboard a remote control car.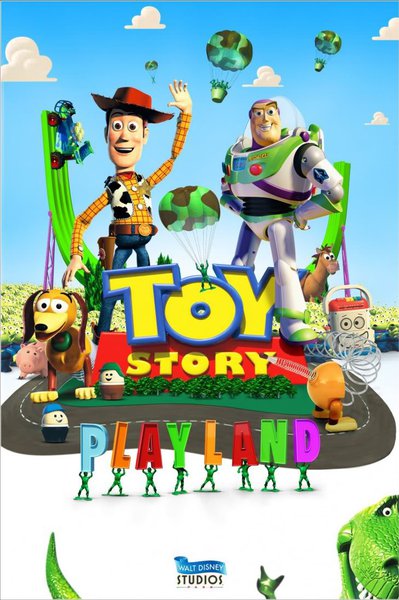 Scenery
All these family-friendly adventures are part of a new outdoor play area inspired by the backyard where Andy, the boy from Toy Story, took his toys to play – except here guests will feel as if they're the same size as the toys.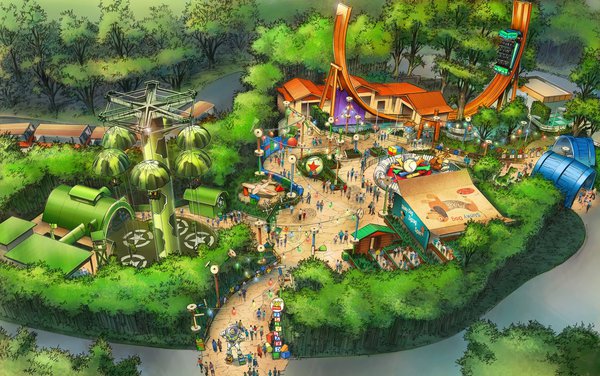 To create the sense that guests have shrunk to the size of toys, Disney Imagineers took advantage of a more than 100-year-old forest that edges the play area. The trees, many more than 30 meters in height, tower over Toy Story Playland.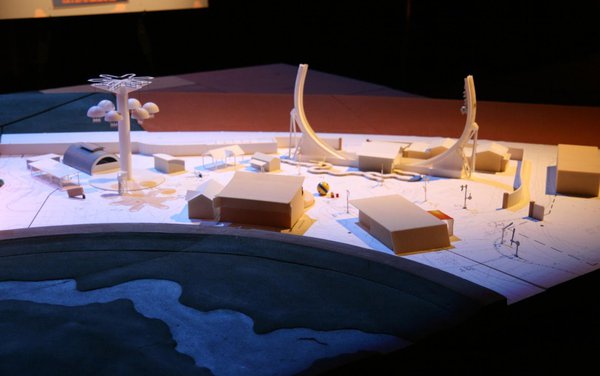 Andy's enormous but subtle footprints that can be found in the walkway, will reinforce the notion of scale. Even cast members are in on the storytelling, with costumes that will have over-sized buttons on them.
In Toy Story Playland, everything is made of toys. Benches are fashioned from Lincoln Logs, retaining walls are made of dominoes and a four-meter-tall Buzz Lightyear action figure greets visitors at the main entrance.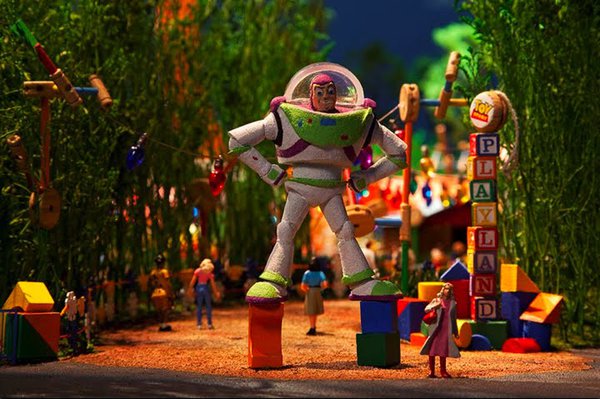 At the second entrance (at the other end of the land), monkeys from a giant blue 'Barrel of Monkeys' will welcome guests with letters from a Scrabble game.
The Toy Story Playland. will be lit at night by over-sized holiday lights. The lampposts are made of Giant Tinkertoys.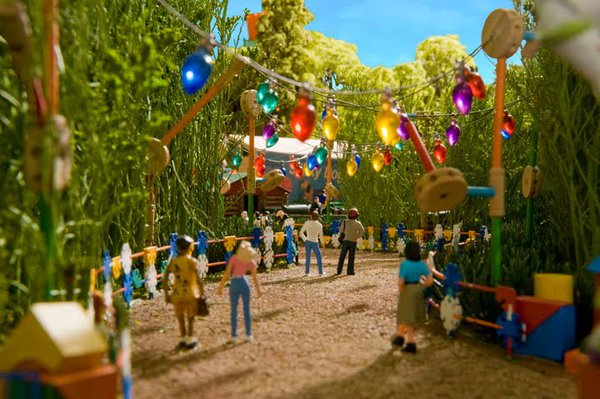 The play area is planted with beautiful stands of 9-meter-tall bamboo which encloses the land and seals us into our new toy world. The 'grass' is actually tightly planted New Zealand flax that mimics a manicured lawn.
To tell the story of Andy's backyard adventures, Walt Disney Imagineering looked to the way kids set up their toys during playtime for inspiration. Kids can't afford an entire collection of a particular toy, so they use other toys to set the scene and tell the story.
Toy Soldiers Parachute Drop
Before you experience the attraction, you will have to walk through the Green Army Men toy training camp, featuring human-sized green army men, a quonset hut, a plastic jeep, crates, a lookout station, even a baby monitor.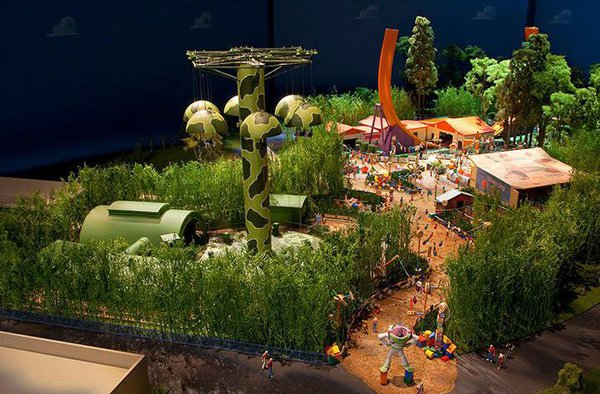 Guests can pause for a photo in a parachute with a backdrop of the blue sky.
Slinky Dog Zigzag Spin
Guests will be able to play a game made exclusively for the attraction on the inside of Slinky Dog's packaging box as they wait in the queue.
At the exit of 'Slinky Dog Zigzag Spin' is a towering Rex the Dinosaur, ready for photos.
RC Racer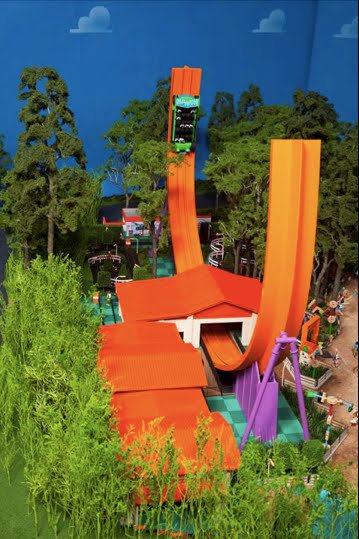 As you walk through the attraction queue, you will snake through the forest on a toy slot car track.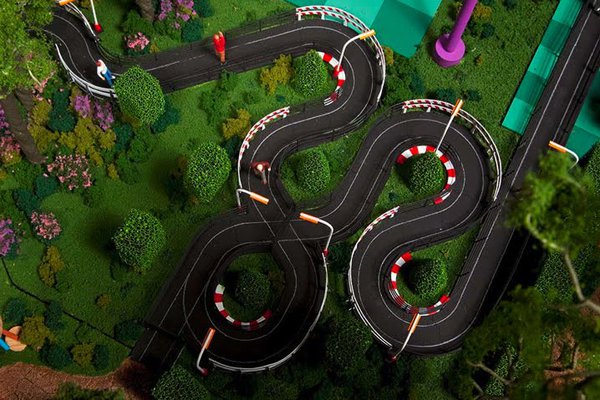 On Monday, July 26, 2010, I got the wonderful opportunity to visit the all new Toy Story Playland (opening August, 17, 2010) - Walt Disney Studios Park Paris.