Disneyland Paris at 25
Do you remember? Oh boy, oh boy! What a party it was! Last April, Disney friends from all over the world came together to celebrate the twenty-fifth anniversary of Disneyland Paris. One of them was retired Walt Disney Imagineer Tony Baxter. Despite his busy schedule, mister Baxter found some time to sit down with us and discuss the history of the most magical place in Europe.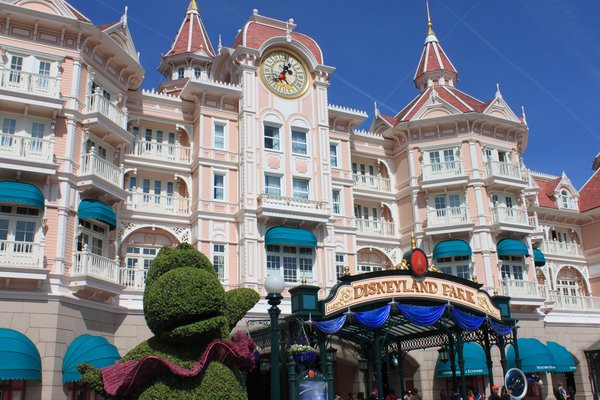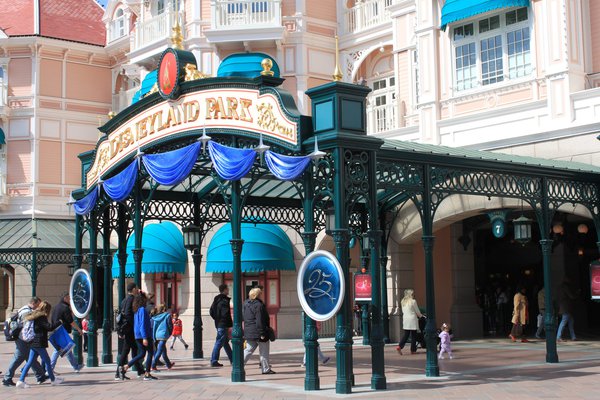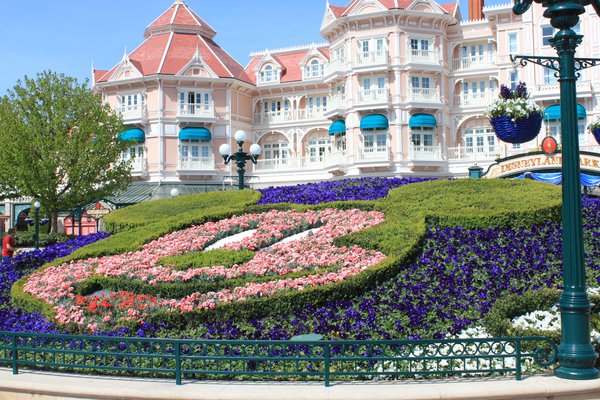 The very beginning
Designing Disney (DD): What was your role in the Euro Disney project and how were you selected for it?
Tony Baxter (TB): When the idea of building a theme park in Europe surfaced, one of our key leaders, Randy Bright asked me whether I would be interested in laying out the concept for the new park. He liked what I had done in the other Disney Parks and thought I was the right man for this job.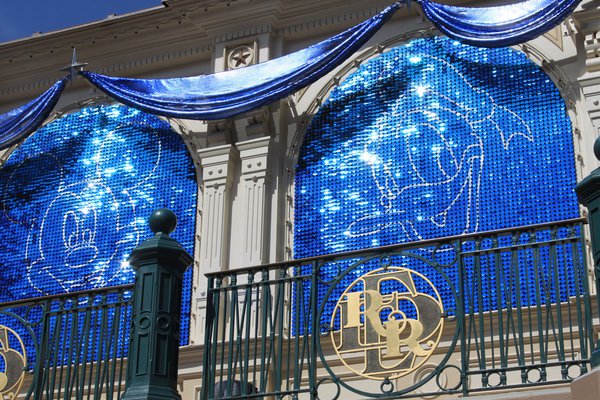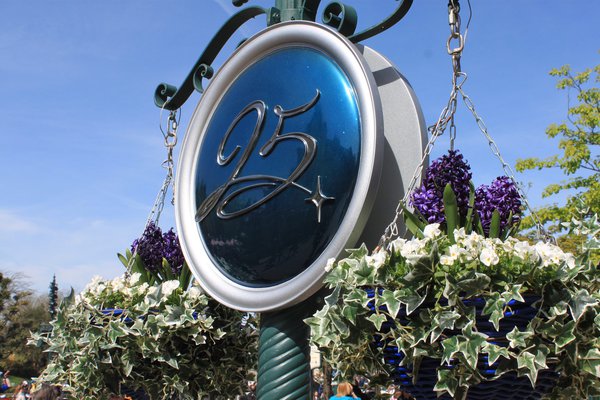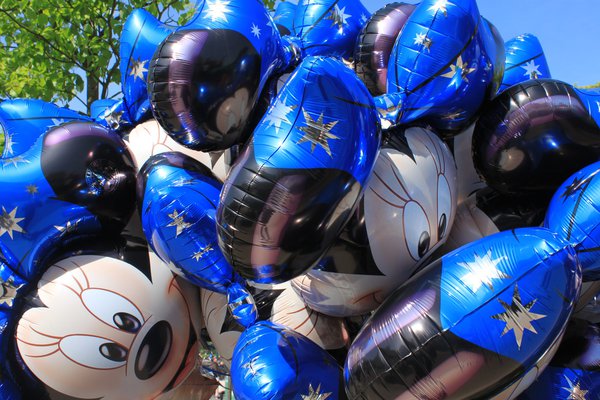 DD: Can you briefly describe the different stages of the Euro Disney project?
TB: First, we needed to decide on the best placement of the Park. We came over to Europe to look at whether it should be in Spain, in Paris or down in Nice. That was done before we got into developing the themes and the stories.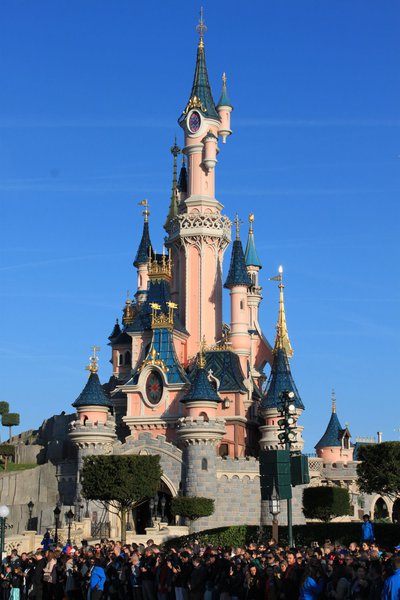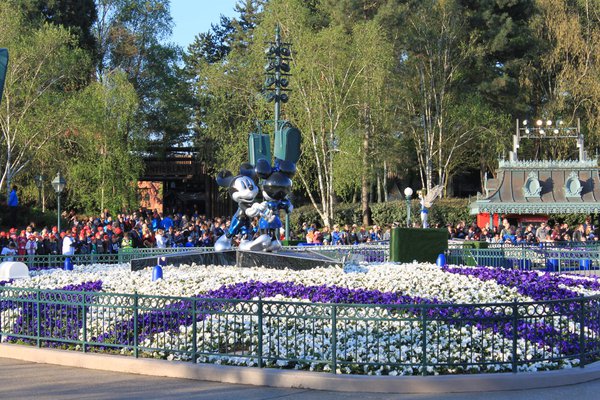 Then there were the negotiations with the French government. Walt Disney Imagineering had an office about a block away from where the talks were held. There were people who were running between the places to keep us informed. From time to time, we had to adjust our drawings based on the decisions made. For example, I remember that one day we slid the Park over about 5 or 10 degrees to take advantage of a better ecology. When you look at the map of Disneyland Paris, you can still see this. North is about 5 or 10 degrees off where the access to the castle is. All our other Parks are exactly on north. But the Disneyland Park in Paris is a little over. Furthermore, it was a better placement with respect to the utilities and the other things we had to work with.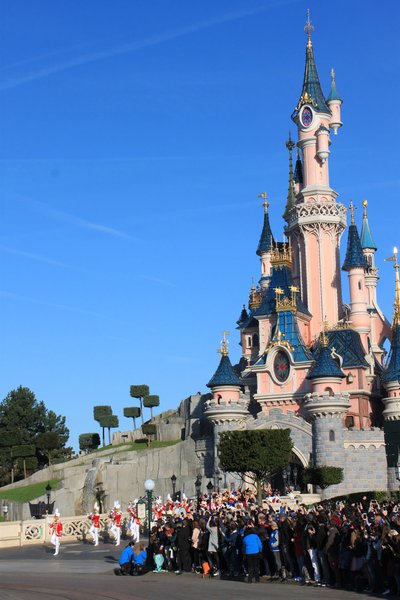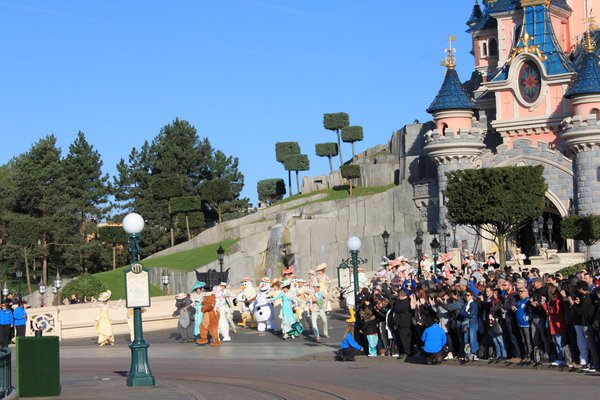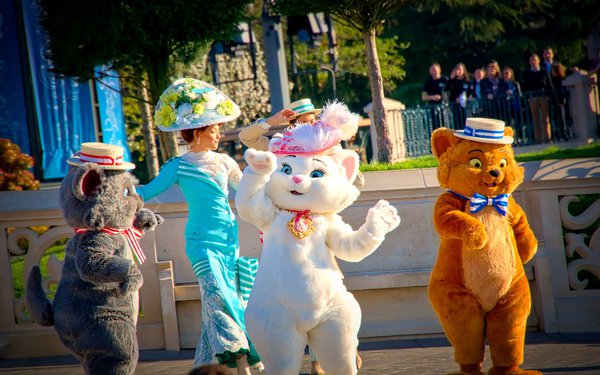 Once the deal was sealed, a group of Imagineers started working on what would be in the Park. So, for instance, Discoveryland became part of our cultural commitment of having an area that is devoted to and celebrates European and French culture. An area based upon the dreams of Jules Verne, J. H. Wells and Leonardo da Vinci. European visionaries that have inspired the world we live in today. We gave a lot of thinking as to whether we should build a castle or not. Tim Delaney developed a very modern, fresh looking idea. But in the end, we decided to go with a very fairytale like castle that didn't use architecture from monuments already existing in France, nor from the castles that were built in Walt Disney World and Disneyland. We focused a lot on Frontierland because we found out that the American Midwest is particularly appealing to European audiences. And we tried to give Adventureland a fresh look by emphasizing more on Asian and Arabian storytelling.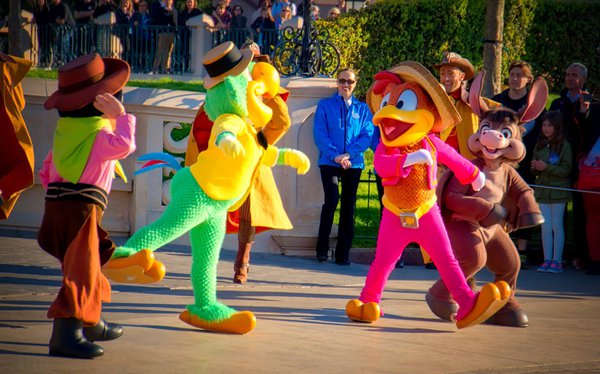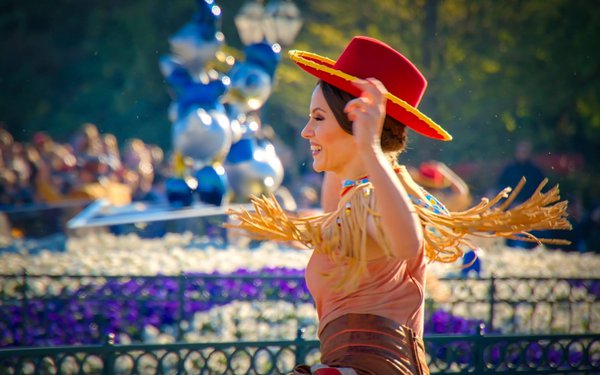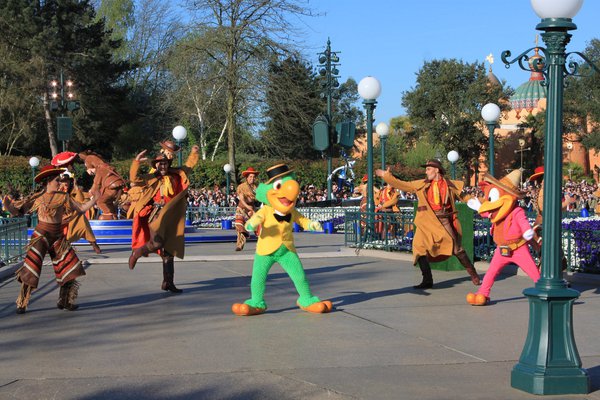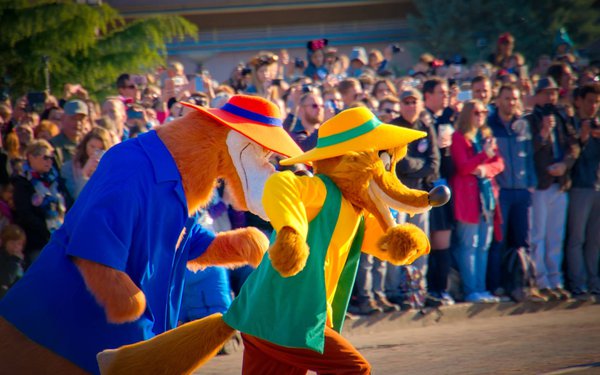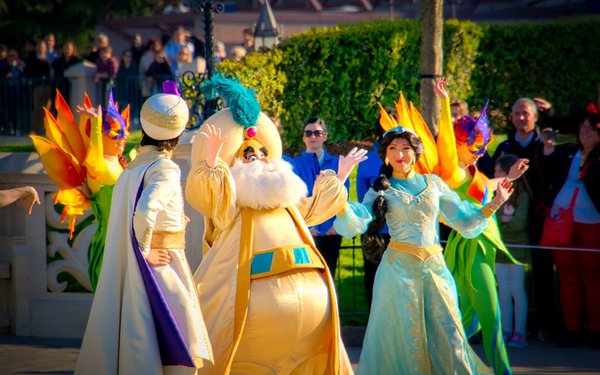 And then, as each of the five Show Producers were brought in, my job was to work with them to make sure that on opening day we would have the best assortment of rides we could with the budget we had been given. Once the Park was opened to the public, we began developing smaller attractions to fill in between our wonderful opening day assortment. We added little things like "Casey Jr le Petit Train du Cirque", "Le Pays des Contes de Fées", "Indiana Jones and the Temple of Peril" and "Les Mystères du Nautilus" to create a place that could handle a very large crowd.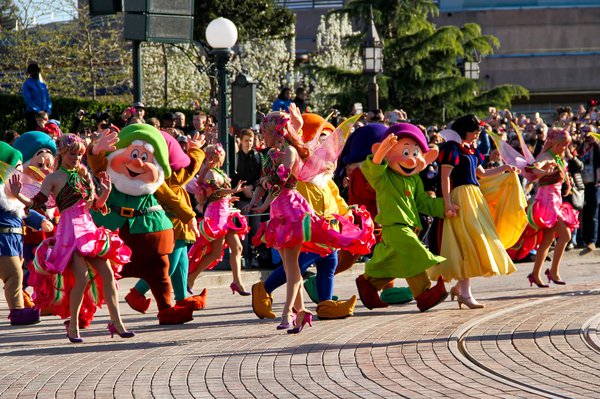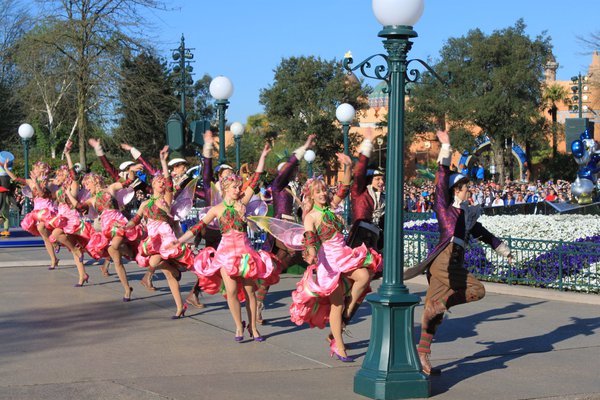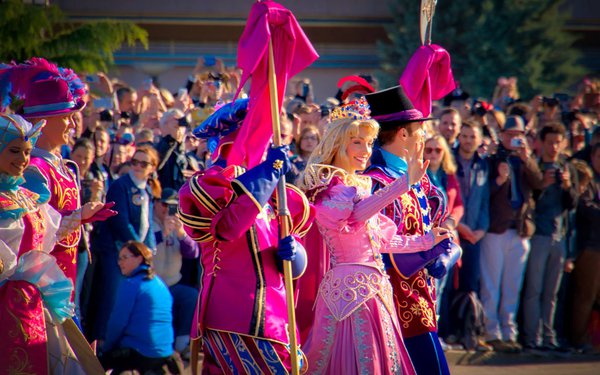 DD: How was it to be part of the Grand Opening celebrations?
TB: Well, six months before the Grand Opening, on October 12, 1991, we actually opened the Park for one single day. The night before, we removed all the scaffolding on Main Street and a curtain was installed on Town Square that went all the way up to the top of the buildings and hid the castle. At a ceremony, the next day, they opened the curtain and the press and all the other people that were there got to see the castle for the very first time. They also could to ride the "Euro Disneyland Railroad" and "Le Carrousel de Lancelot". Even though there was a lot of unfinished work, that was a very, very fine day. And then, from that point on, up until the opening day, we worked on getting all the details right. And it was hard! Because the weather was so cold; we had to build canopies over rocks and buildings to allow the paint to be warm enough to last and not turn to snow while it was coming out of the spray gun. When we finally opened, I think a lot of us were exhausted. Even the night before, we were rearranging chairs and tables, bringing in carpets and doing other things to make sure that the Park was ready. So, opening day was rather relaxing. We spent most of the time looking at the happy faces of the Guests.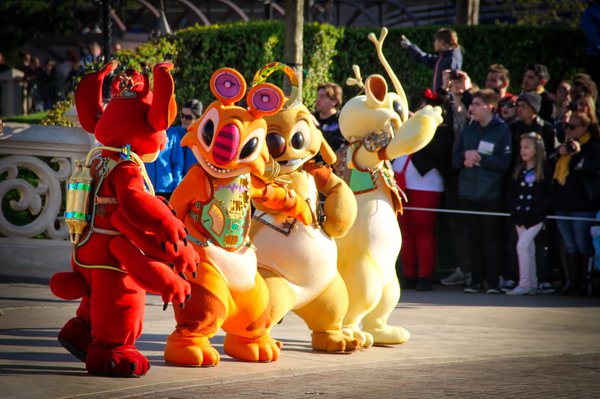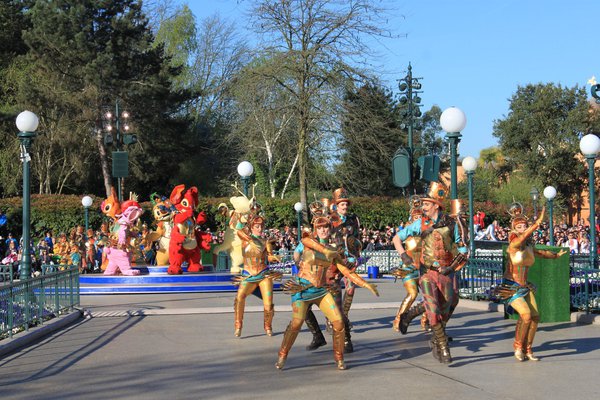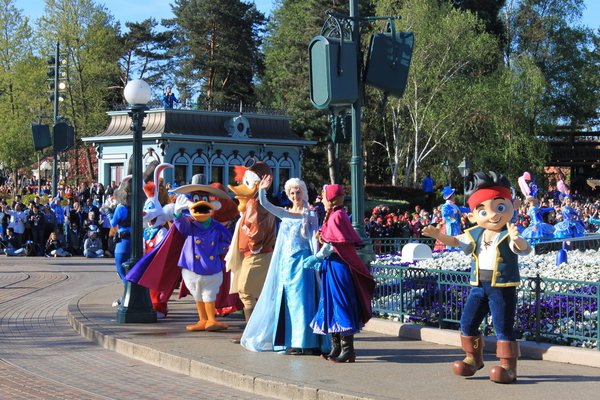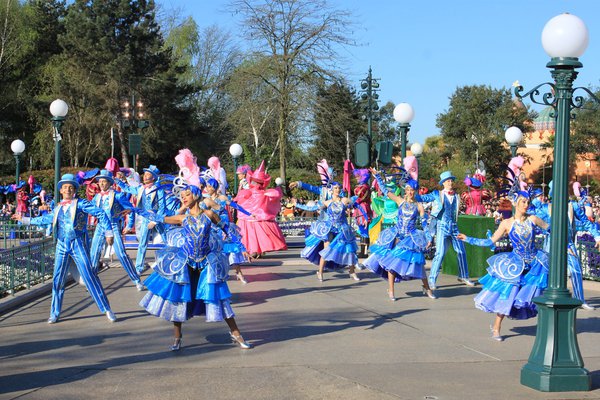 DD: Do you have anecdotes to share about the (days before) the Grand Opening?
TB: I remember that Michael Eisner had spent two months learning French. But on opening day, he was so nervous that he was very straightforward with his delivery and only said "Euro Disney est ouvert". It was not really fluent. And I felt for him, because he spoke better French then I did. He had at least taken the time to try and learn. But it was funny to hear his speech.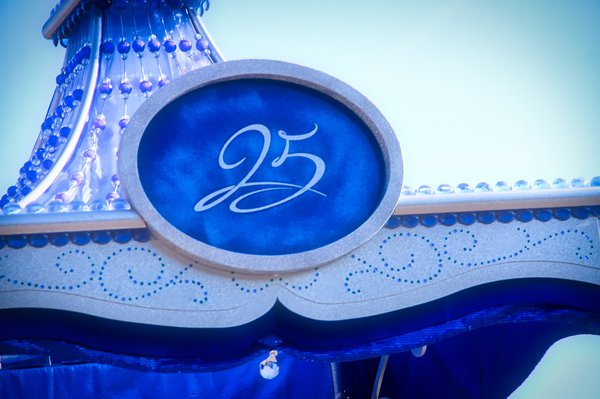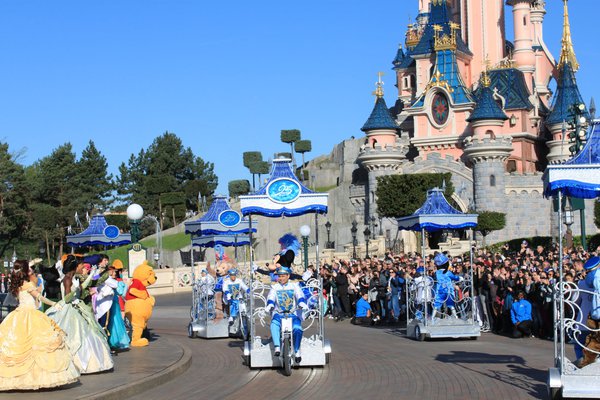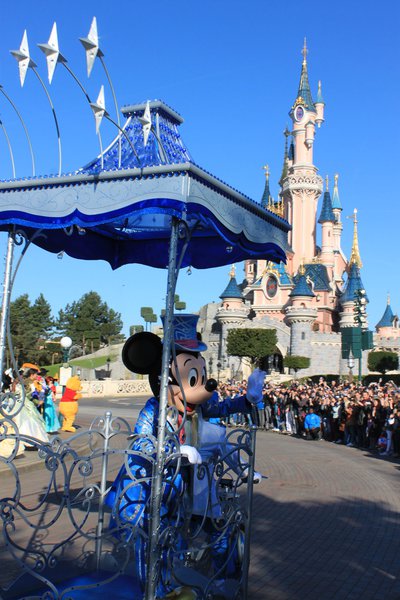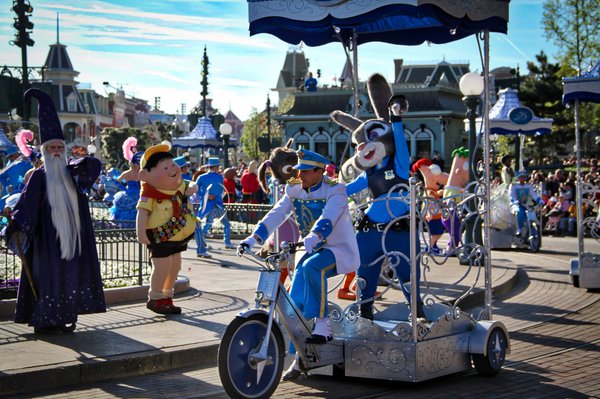 The Grand Opening celebrations lasted three days. To open the hotels district, we had a beautiful water pageant on the lake and projections of Triton and scenes from The Little Mermaid. It was the very first time Disney did projections on water. Most people think it was something that was introduced by Fantasmic but it isn't. It was very exciting because it wasn't like, oh yeah, that's like Fantasmic, it was like, wow, they're projecting on water! How are they doing that? It was magical stuff! That was sort of a surprise for me. I knew everything that the people were going to see in the Park. We rehearsed everything and did dry runs before it was opened. But I had no idea what they were going to do out there on the lake. I wish we had that spectacular as a permanent feature. It was great!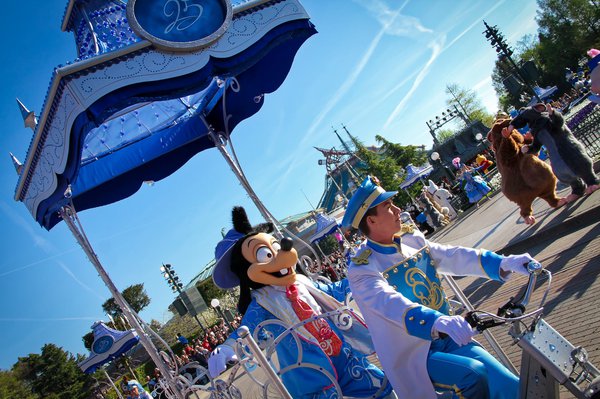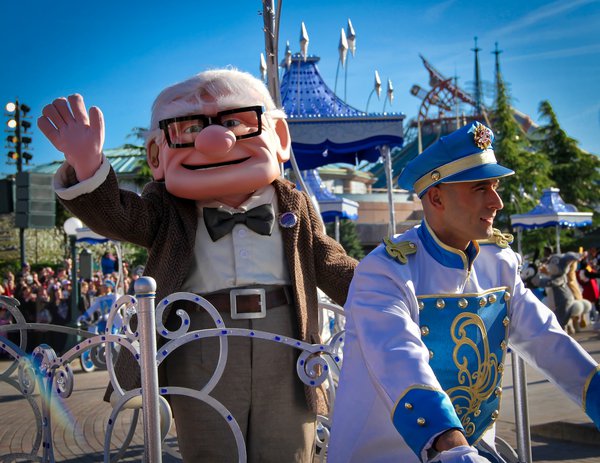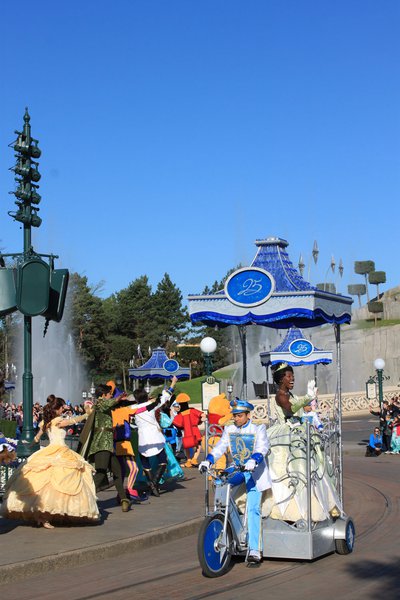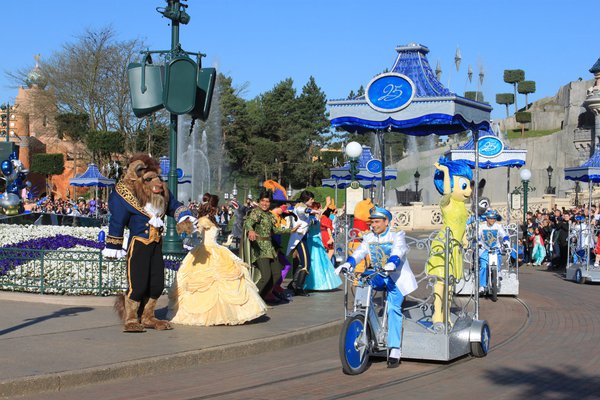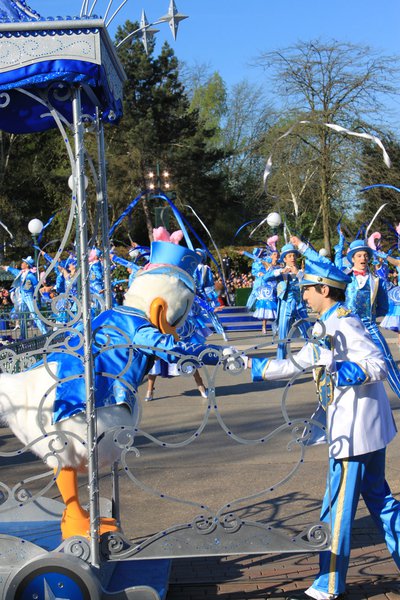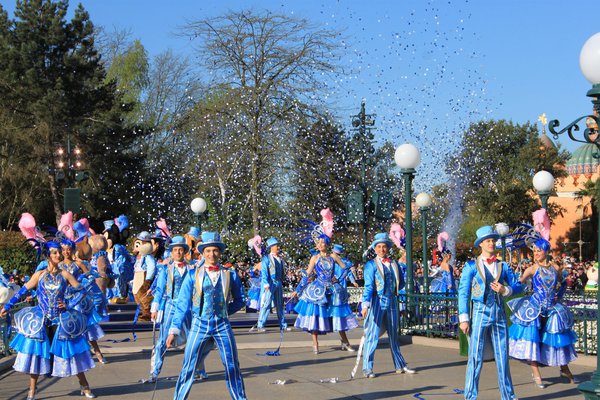 The distance traveled
DD: Did you come back to Disneyland Paris many times in the past 25 years?
TB: I came back again for the added capacity program and the creation of Space Mountain. Later, I returned to the Resort when there was a particular reason or an event to celebrate. Reasons like what we're doing right now. I can fill in the story about how this Park came to be and why I still believe it's the most beautiful Disney Park that we've ever built.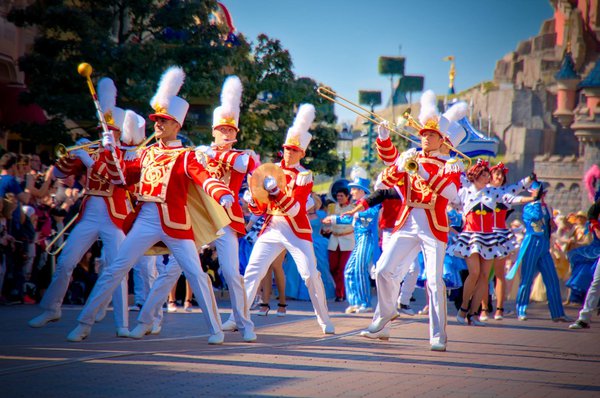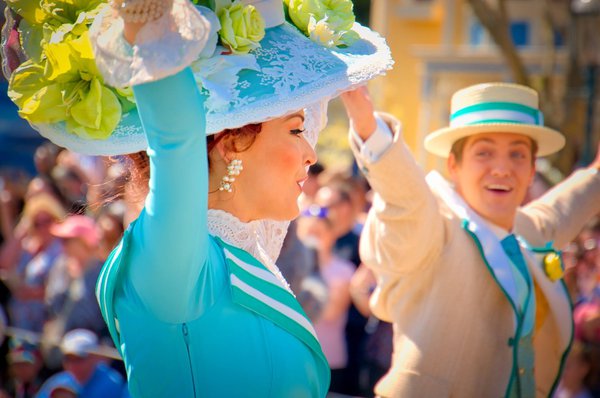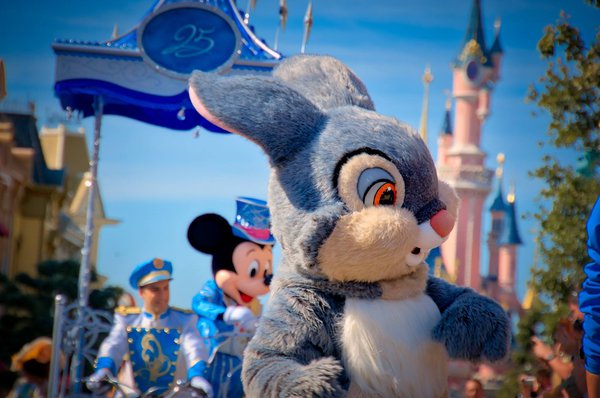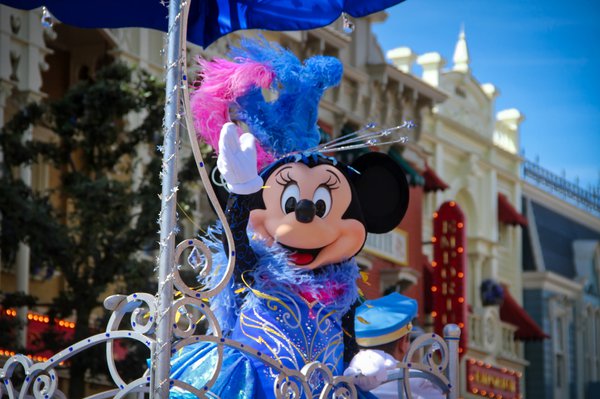 DD: What major changes did you see in the past 25 years?
TB: Probably the most significant one was the addition of the Walt Disney Studios Park next door. And I think learning how to manage the Hotels has been a great success and effort here too. In California and Florida, nobody goes to Anaheim and Orlando just to see the city. They go there to see our Parks. But here in Paris, we're right next to one of the greatest cities in the world that people come to just stay in and see. So, finding a way to make the Hotels work I think was a challenge in the early years, which today has all been solved and is working pretty well. People are enjoying many nights here and not feeling that they are missing something in this beautiful city that we're right next to. That was a challenge. And I don't think that, when we opened, they give enough understanding to that. We thought that they were going to come to our Park, and they did, but they wanted to stay in a hotel in Paris. So, Disneyland Paris had to figure out how to coexist and be partners with the city of Paris. I think, the name says a lot. When we opened, we were Euro Disney. And now, we're Disneyland Paris. The latter reflects a sort of a partnership, a marriage of two great locations. The name Disneyland Paris makes a statement that there's a lot to do here: part of it is Disneyland and part of it is Paris. We don't say Disneyland Anaheim. Because Anaheim isn't a feature. We say Disneyland Paris because that allows people to cogitate about what it really is.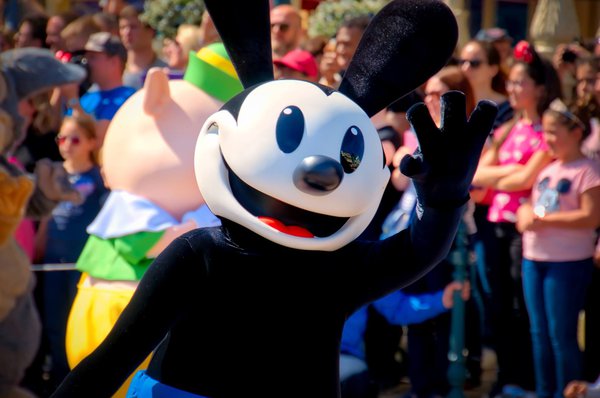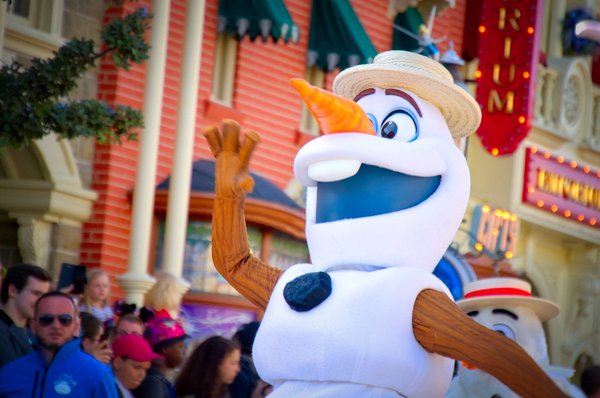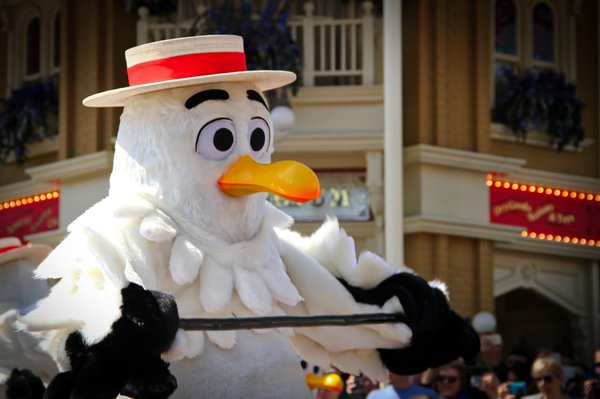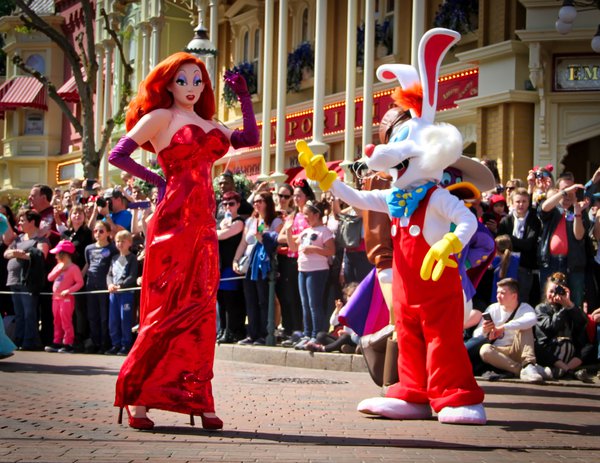 DD: Do you have special memories of a particular show or parade?
TB: I liked the Pocahontas show because it perfectly matched the theme of The Chaparral Theatre. The Lion King in Videopolis really stood out. I loved the Tarzan show. That one wasn't particularly themed to the Chaparral stage but it was a fantastic show. And then there is the new "Stars on Parade"! I think it's one of the best Disneyland Paris productions ever. It's beautiful! The designers of the floats were neighbors of mine in Anaheim, California. And they did such an amazing job!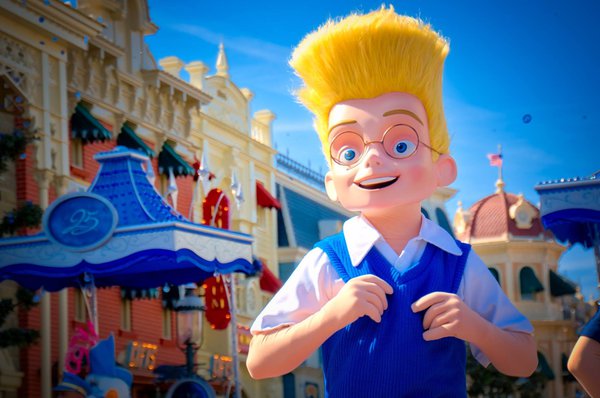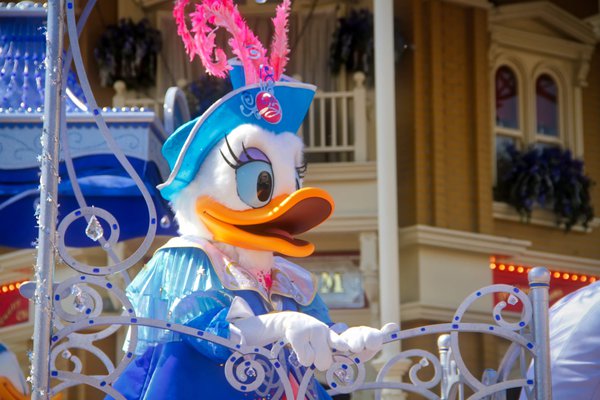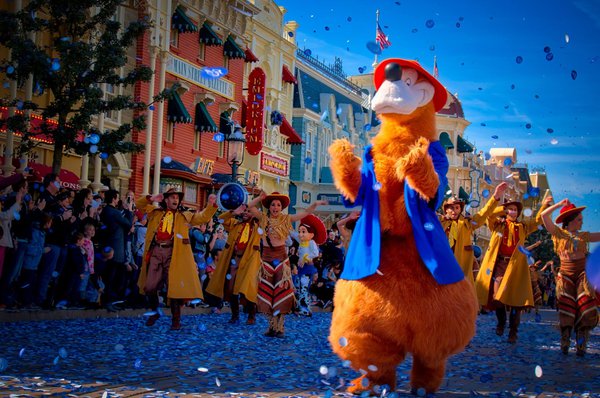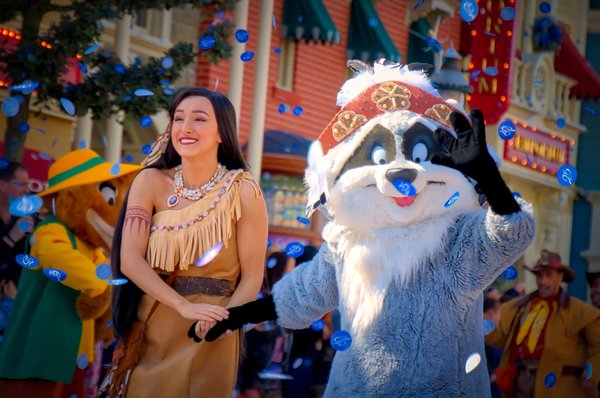 The state of play
DD: How does it feel to discover an entirely refurbished Disneyland Park?
TB: I came over, hoping that it would look like it did 25 years ago. But then, when I got here, I think it looks better in some ways then it originally did. Because the landscape is grown and there has been an adjustment of things. For example, "Big Thunder Mountain", I think, looks better than the way it was because (for example) the refurbishment brought a new ending to it that is superior to the one we had before and the finishes on the characters are better than they were on opening day. I recently walked through "Pirates of the Caribbean" which is currently undergoing a huge refurbishment. I was shocked by how much work is going on in there! A lot of new scenes are being added. It's just like building a brand-new ride. I think the Adventure Island caves look really beautiful too. During the refurbishment, LED lighting was installed. LED didn't exist when the Park opened. But their advantages are significant. LED's are more beautiful and last longer. So, I thought I was going to come back and see the original design but in many places, it has been improved.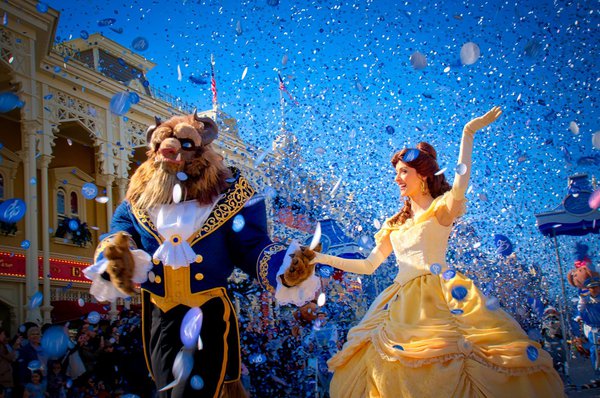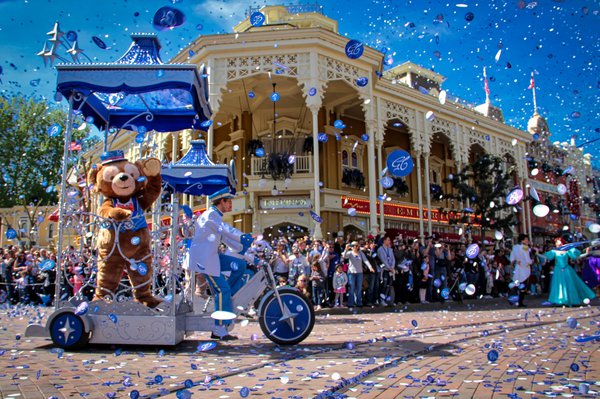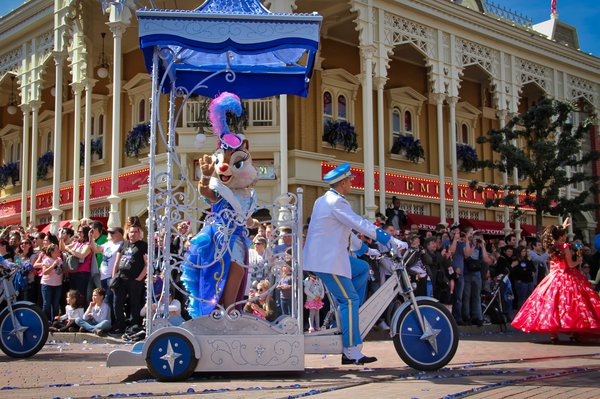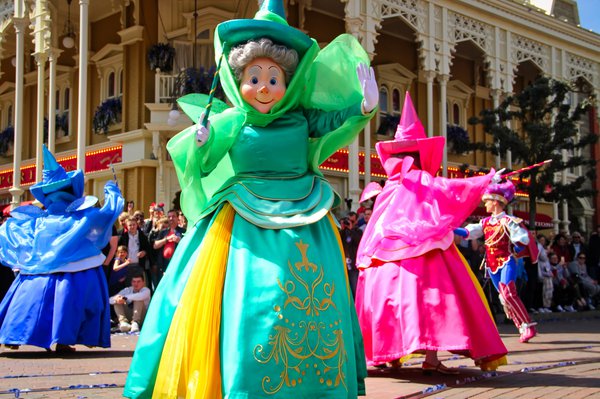 DD: How do you like the way the updated Star Tours has been integrated in the Park?
TB: When we originally designed Discoveryland, we envisioned a much different Space Mountain with hallways and corridors that would lead to Videopolis, the 3D theater and Star Tours. But right before the opening of the Park, we a kind of abandoned that idea. While we were changing plans as we were building, we had to quickly create a front for / entrance to Star Tours. So, walking there now and having a proper entrance marquee is beautiful. I think that whole area works a lot better in the new configuration.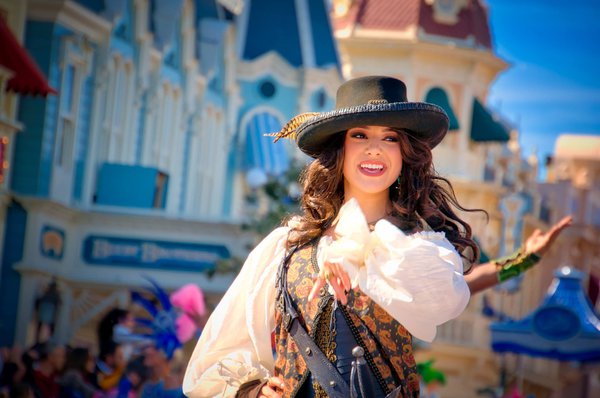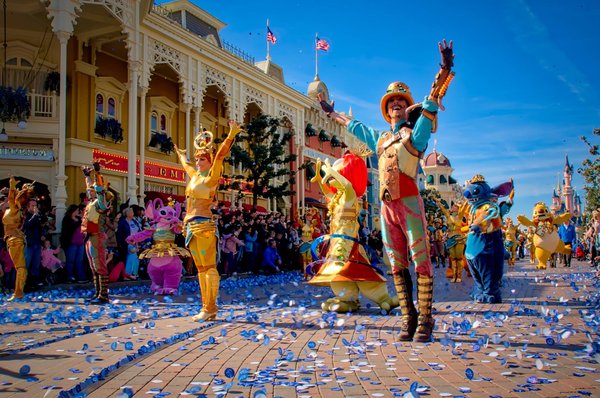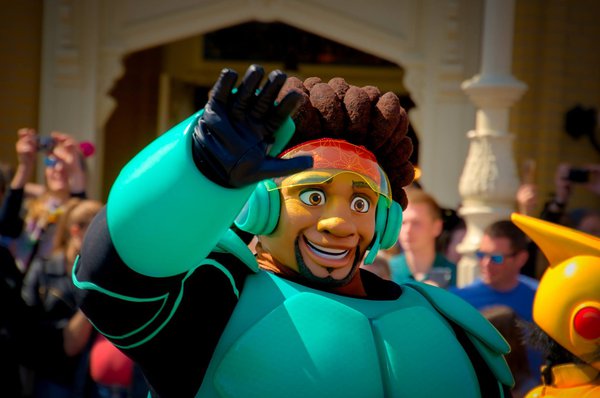 Thank you so much for answering our questions, mister Baxter.
Enjoy the Disneyland Paris 25th anniversary celebrations!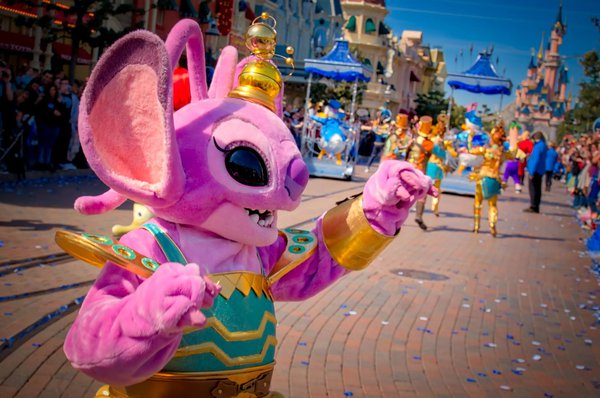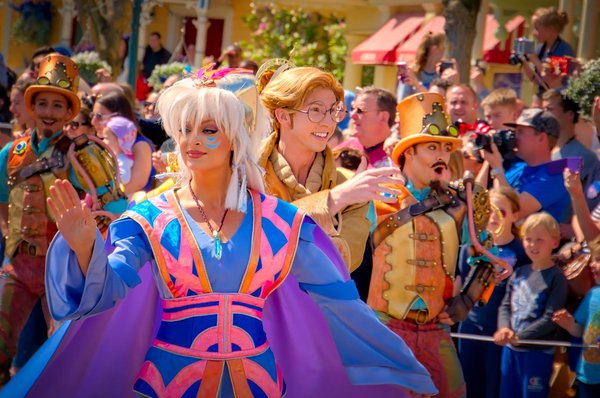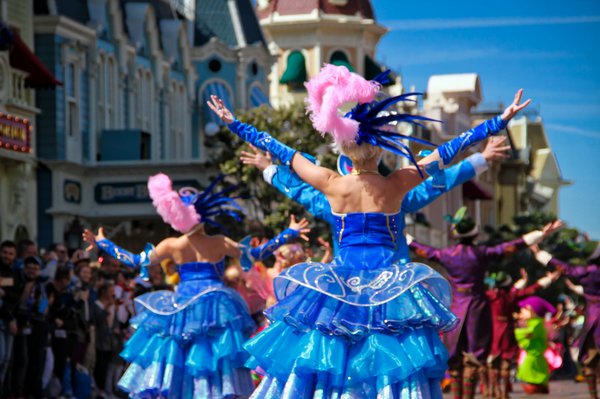 Credits
Many of the photos above were made on April 12, 2017 by our good friends:
Bert Snyers: 17, 20, 24, 27 – 29, 37, 40, 41, 43, 47 – 49, 55.
Thomas Peeters: 11 – 13, 15, 16, 19, 34 – 36, 38, 39, 42, 44 – 46, 50 – 54.