Millennium Celebration at Disneyland Paris
"A celebration 1000 years in the making"
On December 31, 1999 and January 1, 2000, Disneyland Paris rang in the new millennium in style. The celebration was one of the biggest and most important happenings in the Resort's history. Today, eleven years later, we take a look back at this memorable moment.
Disneyland Park
At the Disneyland Park, several special events took place on December 31, 1999.
09h: Opening of the Disneyland Park by the Mayor of Main Street USA, followed by the "Magical Main Street Welcome" spectacular. Upon entering the Park, each visitor received a very special gift package. It included a "cold light" stick and a unique, collectible "Millennium" watch.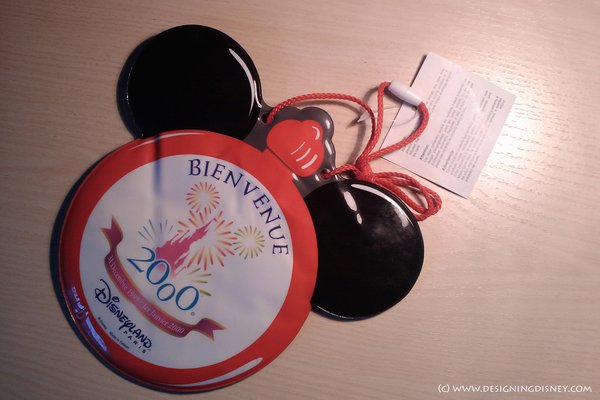 12h: Start of Disney's Millennium Countdown. As each new time zone entered the new Millennium, a Disney character performed a countdown.
13h: Snow White and the Seven Dwarfs
14h: Pinocchio
15h: Steamboat Willie
16h: Alice in Wonderland
17h: Mulan
18h: Jungle Book Characters
19h: Quasimodo
21h: Hercules
22h: Cinderella
13h30: The Wonderful World of Disney Parade.
16h00: The ImagiNations Parade.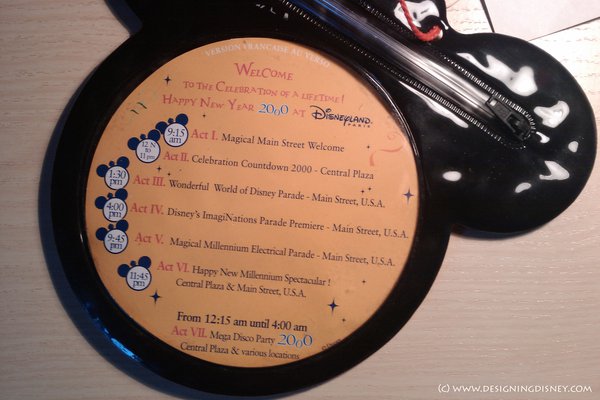 21h45: Main Street Electrical Millennium Parade, featuring pyrotechnic effects along the route.
22h30: Live concert at Central Plaza.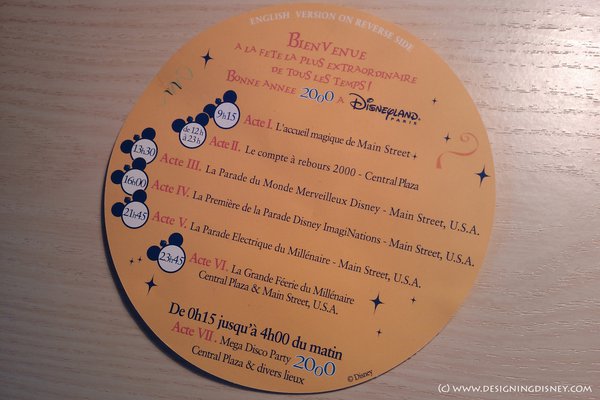 23h45: Happy New Millennium Spectacular – La Grande Feerie du Millenaire.
The "Happy New Millennium Spectacular" featured a 360-degree launch of fireworks and a gospel choir singing "Ode to Joy", part of the "Ninth Symphony" by Ludwig Van Beethoven.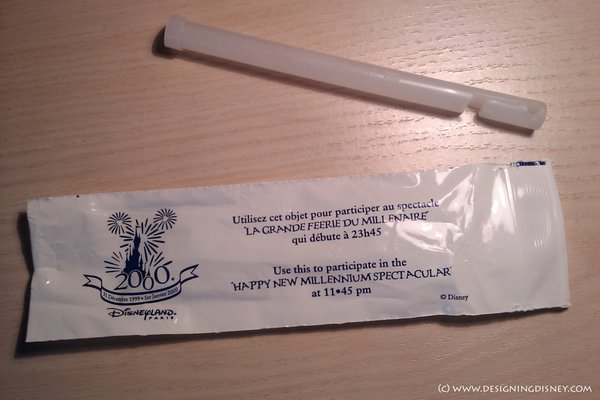 00h30: Mega Disco Party 2000
04h00: Distribution of fresh onion soup.
Onion soup? Yes, onion soup! After having partied all night, French people have a New Years morning tradition of drinking onion soup.
On January 1, 2000, two thousand underprivileged kids were invited to spend the day at the Disneyland Park. The following events were organized especially for them, during "Disney's Year 2000 Kids' Day":
11h: Welcome "Disney Kids" Park opening ceremony in Main Street USA.
12h: "Disney Kids" parade.
18h: "Disney Kids" disco party with Goofy and friends in front of "Sleeping Beauty Castle".
21h: "Grand Disney Classics" Fireworks.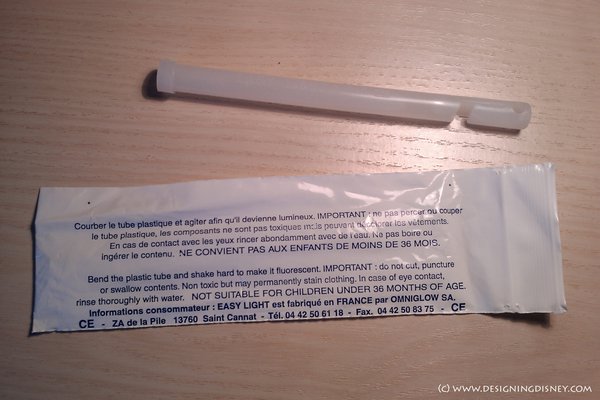 Disney Village
On New Year's Eve, a special, separate admission party event was organized at Disney Village. Tickets were sold at 299 FF per person (approximately 45 Euro / 58 US Dollars). Free entrance was given to guests staying at the Disneyland Paris Hotels.
People who wanted to reach the Hotels without facing the crowd in Disney Village could use the special walkway that was created via the Resort's picnic area.
In Disney Village, special light decorations, stages and food & drink stalls had been set up days in advance. The area in front of the Central Stage was covered with canvas providing protection against rain (that eventually never came). The program for the night included:
Billy Bob's Country Saloon
17h – 20h30: Buffet & table service dinner.
20h30 – 22h30: Live concert of "What" (pop/rock).
22h30 – 00h10: Live concert of "The Moody Brothers (country).
00h10 – 01h00: Jam session "What" & "The Moody Brothers".
01h00 – 04h00: DJ Jacques (classic pop/rock/country hits).
Rock 'n Roll America
18h – 20h30: Buffet & table service dinner.
20h30 – 23h45: DJ Johnny & live concerts.
0h30 – 02h30: Live concert of "Whitley Avenue" (hits from the 70, 80 and 90's).
02h30 – 04h00: DJ Johnny.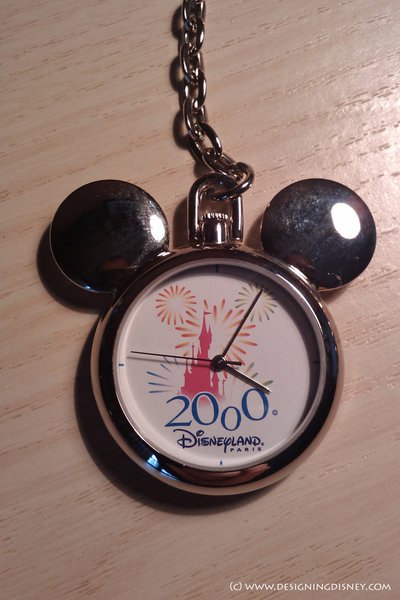 Central Stage
17h – 22h: DJ set.
22h – 23h30: Live concert of "It's Getting Noisy".
22h30 – 04h00: DJ set.
Lake Disney
23h40 – 23h55: Start Millennium Countdown.
23h55 – 00h10: The Magical Water and Fireworks Show.
Disney Hotels
On New Years Eve 1999, all Disneyland Paris Hotels did something special for the occasion.
The Jolly Holiday Dinner Show (the predecessor of "The Wonderful World of Tinker Bell" Christmas dinner show) was staged in the ballroom of Disney's Newport Bay Club. A cast of 26 dancers, 5 singers and many Disney characters took guests on a journey to the North Pole to see Santa and his workshop.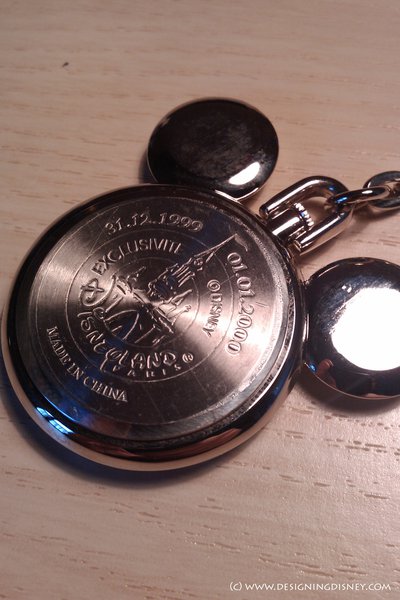 At "A Musical Evening with Mickey Mouse" in Hotel New York's 'Times Square' ballroom, an orchestra and singers performed some of Disney's most memorable songs.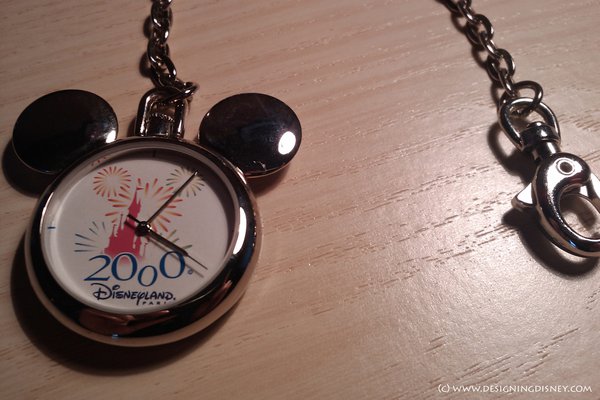 On January 1, 2000, each hotel guest received a commemorative "Disney Year 2000" china mug at breakfast. The white mug featured Mickey, Goofy and Donald, bearing the legend "My First Breakfast".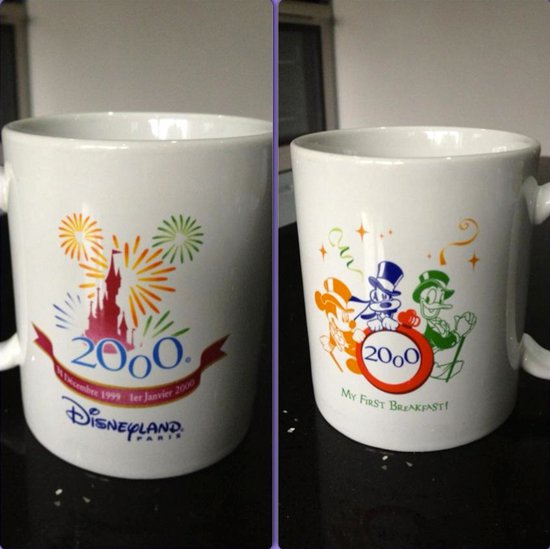 The Millennium gift package is part of the 'Designing Disney' collection.
Credits
Photo Mug: Victoria Murrell